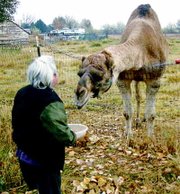 GRANDVIEW - Wanted: loving family with huge pasture. Will trim pasture for occasional treats. Make that daily treats, apples, etc.
Those familiar with the Grandview landscape on Tear Road know there's a dromedary camel there currently up for sale.
Merlin's his name and his owners are no longer physically able to provide the training he needs.
Merlin's a racing camel. Because he's a dromedary, he's only got one hump. Dromedary camels are good for racing because they're quicker than bactrian camels, who have two humps.
Merlin's 11-years-old and for the past nine-and-a-half years, he's called his pasture on Tear Road home.
Lynn Henry, Merlin's owner, had originally intended to bring camel races to Prosser and at one time, she was mom to three female camels and Merlin. Her plan was, in addition to the races, to breed the animals.
Henry's already sold the females, but she's having a more difficult time selling Merlin. "It's not easy to sell a male," she says. But, she adds, "He needs a good home--a good home for someone to do something with him. He wants a buddy. He used to have cows in the pasture with him, but they're gone now." Henry lives out of the area and makes regular visits monthly.
Merlin's neighbor though, Ruben Gonzalez, pays daily visits. Says Henry, "You know how a dog takes to a human? Right from the get-go, that's how Merlin took to Ruben."
Gonzalez lives across the street from Merlin's pasture.
Believe it or not, Gonzalez says he's never been one to take to animals. That's not the case though with Merlin. He'll stand in his house and call out to Merlin, and Merlin's worn the grass in the area he meets with his neighbor.
"I just took it upon myself to take care of him," says Gonzalez.
Perhaps Gonzalez' affable openness draws animals to him: the goats just west of house adore him. It could be because the scraps from Gonzalez' endeavors in his kitchen are devoured daily.
"I wish there was someone to take care of him," Gonzalez says of the lonesome camel. "He needs someone."
Henry said that Merlin's handler needs to be physically strong, which she no longer is. And Gonzalez has physical limitations as well.
A camel can be trained, but the handler has to be able to make the camel follow the command. Eventually, the handler doesn't have to do the physical aspect, the camel will respond to verbal commands.
"It's physical work. Breaking a camel is easy as opposed to breaking a horse.
"Merlin knows about (the physical limitations) I have, so he likes to see what he can get away with. He's like a 10-year-old boy, a real Dennis the Menace," says Henry.
She said it is possible to get on him and ride him, but "you have to make him know you mean business and you're the boss. He's like a proud stud horse."
She said that when a handler invests in a camel, the return is even greater. Camels can be used for racing, provide wool, used to breed, a conversation piece, lawn ornament and pull a plow or wagon. And, she adds, "He's great for cleaning up a pasture. If you've got a messy pasture, he'll clean it up for you; he'll prune everything up, even the rose bushes."
Merlin eats grass hay--alfalfa hay has too much protein. And, says Henry, he'll eat anything else you set in front of him. Gonzalez feeds him regular feed from Blyehls, but said that Merlin loves bananas, apples, peaches (you have to remove the seed) and, of course, just plain old leaves.
"He used to love jalapenos, now he won't eat them," says Henry. Adds Gonzalez, "He absolutely loves cookies."
For more information about Merlin or queries about purchasing him, call Henry at 509-949-2764.