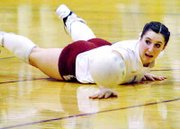 GRANDVIEW - As they have all season, the Grandview volleyball team made short work of an opponent last night in a 3-0 sweep of Ephrata in the first round of the CWAC District tourney.
"We won, it was a lot like we expected," said Coach John La Fever. "The big ones (matches) are coming up."
Grandview prevailed 25-8, 25-15, 25-14 in securing a spot in this Saturday's District semifinal match, the first of what the Lady Greyhounds hope will be many "big" matches this postseason.
Kealey Johnston led Grandview's win over Ephrata with 10 kills. She added six service points, six digs and five passes for the night.
Raissa Licano had nine kills for Grandview to go with three digs and teammate Sydney Mottice recorded a team-high seven digs. Another teammate, Katie Veloz, led the Lady 'Hounds with eight passes to go with six service points.
Grandview's Chante Bottineau again set up the Lady 'Hounds blistering net attack with 26 assists.
Grandview plays Ellensburg, a 3A State finalist last year, in the semifinal match set for noon Saturday in the East Valley High School gym.
It will mark the fourth time Grandview has played the Lady Bulldogs this season. The Lady 'Hounds won the previous three matches in sweeps.
"We've got to polish up a few things," La Fever said of his 29-0 squad. "Ellensburg is a good team."
If Grandview defeats Ellensburg for a fourth time, the Lady Greyhounds will advance to the CWAC championship match at 4 p.m. Saturday in the East Valley gym.