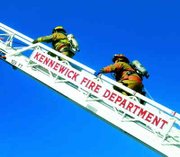 HANFORD - In terms a firefighter would understand, it was a play-day. In terms a city council member would understand, it was enlightening.
Sunnyside Fire Captain Paul Filicetti accompanied Sunnyside City Council member Paul Garcia to a Fire Ops 101 class at Hanford, made possible by the Washington State Council of Firefighters and the International Association of Firefighters.
The idea behind Fire Ops is to give policy makers hands-on experience in understanding what a firefighter goes through in the field. Or, as Filicetti puts it, "...how the fire service evolutions are time sensitive, team dependent, hazardous, dangerous and labor intensive.
"Not everyday do we have a burning building or car wreck, but when we do, it showed how many people it took and how much equipment or gear was needed."
While there, Filicetti and Garcia participated in numerous activities and situation scenarios Filicetti is likely to find himself in, with the exception of the ladder climb.
Sunnyside doesn't have a ladder truck with a 105 ft. ladder. The Kennewick Fire Dept. loaned theirs, and the men climbed the ladder.
"Neither one of us is a big fan of heights," Filicetti said. "It was terrifying and exhilarating for the two of us."
Once they climbed the ladder and reached the top of the 80 ft. training tower, Garcia was shown how to sound the roof (pounding a roof with an ax to make sure it's still solid and safe to walk on). Then they went down to the roof prop drill, cut holes in the roof prop and simulated vertical ventilation.
One interesting aspect of the training is that Garcia got to wear 60 pounds of gear for six hours, just as Filicetti does when he goes out on the job.
The first drill included a burn/flashover fire room, where the men extinguished two burn props.
In a room filled with fake smoke, the men performed a search and rescue operation, pulling a dummy out to safety.
And, adds Filicetti, "Paul got a chance to use several tools to cut up a car to extricate a victim."
Policy makers were also given the task of working on a heart attack victim.
The day prior to the drill exercises, policy makers went through a mandatory safety meeting and mask face test to prep them.
"The whole purpose," says Filicetti,"was to get a snapshot of what firefighters do for a living, so policy makers who control the budget and the policies would know."