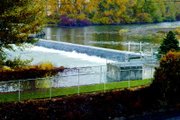 PARKER - After taking control of Sunnyside Dam Park on Yakima Valley Highway last June, the Sunnyside Valley Irrigation District (SVID) recently finished improvements to the park overlooking the Sunnyside Dam.
SVID had been maintaining the park under an agreement with Yakima County but took actual ownership of the area last June.
The park overlooks the Sunnyside canal diversion dam, where water is diverted from the Yakima River to the Sunnyside canal. Fish screens are also visible from the park. These screens prevent fish from swimming down the canal, instead directing them back to the river.
As part of the improvements, SVID personnel removed overgrown shrubs and some fencing. Trees were planted and a new fence constructed. The current sprinkler system has been repaired as well and the whole site generally given a fresh appearance, according to a SVID press release.
The park was originally part of the state highway system when Yakima Valley Highway was U.S. 410 and later SR 12. When SR 12 became part of the county road system, Yakima County assumed ownership of the park.
The park also overlooks historical fishing grounds of the Yakama Nation. Fishing by the tribe is still done there to this day.
The bathrooms have long been taken out but there are two picnic tables and plenty of grassy areas to sit down at. The park also offers sweeping views of the Yakima River.