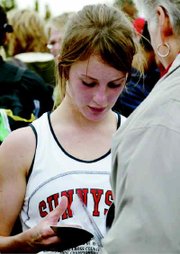 PASCO - Sunnyside High School junior Brittany Messmore finished in the top half of the field at Saturday's Washington State 3A Girls Cross Country Meet.
Staged at Pasco's Sun Willows Golf Course, the 3A girls race featured 136 runners. Messmore recorded a 60th place effort, crossing the finish line in 21 minutes-flat.
The spread between the first place time and the clocking of the 136th place finisher was six seconds short of six minutes.
"Brittany ran a very good, solid, steady race," said Sunnyside Coach Robin Bryson. "Considering, especially, it was her first time at State."
The 3A girls race winner turned out to be Squalicum junior Bronwyn Crossman. She toured the 3.1-mile course in a time of 18 minutes, 44 seconds.
Crossman edged runner-up Lisa Olander of the West Valley Rams by just two seconds. The sophomore Olander, with her clocking of 18:46, hit the finish line 12 seconds ahead of the third place finishing Katrina Drennen of Sumner (18:58). Olander's West Valley teammate, junior Stephanie Shuel, was fourth in a time of 19:14.
Coupled with the 32nd place finish of Rachael Johnson (20:25) and the 69th place finish of Alejandra Borunda (21:14), West Valley came in with the fourth lowest team score at the 3A girls State meet.
Squalicum, behind the first place effort of Crossman, won the 3A girls team title with a meet low 80 points. Mt. Spokane was a distant second in the team scoring race with 131 points, Columbia River third with 133 points and West Valley fourth with 134 points.
In assessing Messmore's race tactics on the five-kilometer course, Bryson said the Lady Grizzly junior harrier settled in with the bulk of the pack and systematically pushed her way past one runner, then another, then another.
"She moved through the pack very well," Bryson said.
Messmore's steady pace kept her running with the top half of the field for the entire race. Down the stretch, Bryson said, the SHS junior found herself a bit winded, but despite not having much of a kick, pretty much held on to the order of finish she maintained the entire last mile.
"Brittany made a huge jump from where she was last season," Bryson said, explaining Messmore's sophomore season was her first ever cross country experience.
"This was a very successful season for Brittany," Bryson continued. "And to cap it off at State, she picked up a lot of really good experience for when she qualifies for State next year."