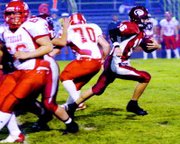 GRANDVIEW - Jacob Johnston, Othello's running back and the leading rusher in the CWAC this year, ran for 287 yards and five touchdowns as the Huskies routed Grandview 47-12 last Friday night in the Greyhounds' last game of the season.
Johnston scored twice in the first quarter to give Othello a 14-0 lead. He scored on runs of one and 14 yards. Othello's David Walker added a touchdown late in the first quarter to give the Huskies a 21-0 lead.
Grandview scored in the second quarter when quarterback Matt Concienne ran four yards for a score. The PAT was blocked and Grandview trailed 21-6.
Any thought of a comeback was quickly extinguished when Johnston scored on a four-yard run to give the Huskies a 28-6 lead. Johnston would add another touchdown, this time a 17-yard burst, before halftime to give Othello a 35-6 lead.
The Greyhounds had one more opportunity to score before halftime but once inside the red zone, the drive stalled.
In the second half, according to Grandview Coach Dustin Lamb, his team decided to start tackling. This enabled the 'Hounds to hold Othello scoreless in the third quarter. Grandview had another opportunity to score in the third quarter but had red zone troubles again. Grandview ran out of downs while threatening to score.
Johnston got his fifth touchdown of the night at the beginning of the fourth quarter on a four-yard run. The PAT was blocked.
Grandview's Frankie Medina capped off a Grandview drive minutes later with his own four-yard touchdown run. The two-point conversion failed.
Husky quarterback Jacob Jahns then completed a 45-yard touchdown pass to Brandon Gomez to account for the final score.
Concienne went 25-for-44 for 226 yards. He also had 36 yards rushing and a touchdown on six carries.
Medina carried the ball 12 times for 30 yards and one touchdown. Marty Guillen had 28 yards on one carry.
Jordan Murataya led the Grandview receivers with 74 yards on six catches. Guillen had five catches for 59 yards and Medina had five catches for 31 yards.
Lamb said he is looking forward to next year.
"We have a 2,000-yard passer coming back (Concienne) and a 1,000-yard receiver (Guillen)," Lamb said. "We've got something to work with."
The Greyhounds finished the season 2-8 overall and 2-7 in league.