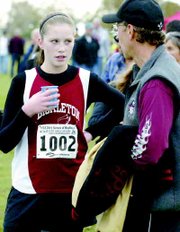 PASCO - Saving perhaps her best effort for her last performance of the season, Bickleton High School sophomore Danielle Raschko came away from the Washington State 2B/1B Girls Cross Country Meet with a medal last Saturday.
Raschko toured the five-kilometer track at Pasco's Sun Willows Course Golf in a time of 21:58, the 11th fastest clocking in the race. Only the top 12 finishers at State earned medals.
"We were shooting for a top 12 finish...to come away with a medal," said Bickleton Coach Darrell Lang. "Danielle came through."
Lang said Raschko's 21:58 clocking on the 3.1-mile course wasn't a personal best, "...but it was one of her stronger performances.
"It's a challenging course, plus with the challenge of being at State against the best runners in the state, she did very well.
"It was a gutsy performance by Danielle, of holding on to earn a top 12 finish, to earn a medal," Lang added.
Raschko's regular race routine is to set a strong pace early on, and then try and fend off runners down the stretch. Saturday, she stuck to what she's accustomed.
A mile into the State meet race, the Bickleton sophomore found herself running in 10th. Approaching the two-mile marker, Raschko still had plenty of life in her legs, as she moved past Northwest Christian's Lindsey Wagner into ninth.
Coming up on the last hill, just short of the three-mile marker, Wagner battled back past Raschko, eventually hitting the finish line in ninth.
Down the home stretch, with a bit more kick at the end, North Beach's Amanda Erickson caught the Lady Pirate harrier, passing Raschko with 300 to 400 yards remaining. Erickson hung on for a two-second spread over Raschko to earn a 10th place finish.
Raschko ended up in 11th with her 21:58 clocking, easily besting the next runner in, who finished in 22:12.
"It was a great effort by Danielle," said Lang. "She has had a great season."
The 2B/1B girls race winner proved to be Northwest Christian freshman Lisa Vandenburg. The Colbert high school underclassman ran a stellar time of 19:20. A private Christian high school junior from Lacey, Joscelyn Minton, placed second in a time of 19:45.