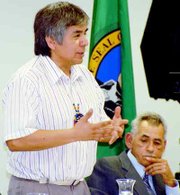 Education was front and center last night, as the area's three state legislators, as well as two legislative challengers addressed an audience of Lower Valley teachers and school administrators.
The session, held at the Sunnyside School District's Denny Blaine building, was for the annual Lower Valley School Board/Legislative dinner held each November.
Last night's gathering was an opportunity for the school communities to share their concerns and priorities for the next legislative session in January 2007.
Craig Dwight, director for the Yakima Valley Technical Skills Center (YV-TECH), called on legislators to fund the center's planned expansion, including a Sunnyside satellite location, in one phase rather than two.
Currently the Sunnyside location, which would encompass $2.65 million of the skills center's overall expansion of $23 million, is set for phase two planning and construction. That means it could be 2011 or later before the Sunnyside skills center becomes reality.
By expanding YVTECH in one phase in 2009, Dwight told legislators the state could save $4.7 million.
In the meantime, Dwight said YVTECH is going forward with new programs in nursing and criminal justice.
Legislators generally expressed support for the skills center, but State Representative Bruce Chandler cautioned against the skills centers potentially competing with Running Start programs that provide college credit for high school students.
"It's popular with parents in the 15th district," Chandler said of Running Start.
There was general agreement that the state's WASL exam needs to be re-tooled, at the very least.
In response to several comments from the audience of about 30 school administrators and educators, State Senator Jim Honeyford suggested doing away with the WASL altogether.
Noting alternative exams that provide similar measurements to the WASL, Honeyford said results would be available faster and there would be savings in administering the tests. That money, he added, could in turn be put back into teacher development and training.
Honeyford's challenger, Tomas Villanueva, said he doesn't like the "one size fits all" evaluation the WASL provides. He said his daughter, a high school junior, described how her teachers focus on the WASL.
Lower Valley school district officials called on legislators to provide more time for all portions of the WASL to be required for graduation. There was also a call for minimum WASL standards that included allowing students to pass the test within a range of scores rather than having a fixed score of 400 as is the case now.
While joining the other incumbents, Honeyford and State Rep. Dan Newhouse, in challenging the WASL system, Chandler cautioned that many legislators are still in Olympia who were involved in the WASL's initial passage in 1992. "They will believe in staying the course," he said of resistance to changing or doing away with the WASL.
"It's incredibly important that we fix the WASL," Newhouse said in his closing comments. "There are not many things that we will talk about that are more important than the education of our kids."
In other education-related comments, State Representative candidate Glen Pinkham suggested a tax exemption system where farmers and senior citizens, for example, could receive a tax break for every day they volunteer in the public schools.