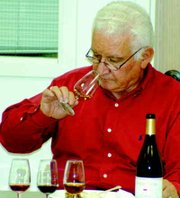 GRANDVIEW - A group of about 30 Lower Valley residents enjoyed a taste of history last night during a course on pairing wines with Thanksgiving dinner.
Master Sommelier Angelo Tavernaro told the class, held on YVCC's Grandview campus, that the wines they sampled had their historical origins in what is now Iraq, and pointed to the Biblical reference of Noah growing grapes following the flood.
But grapes need soil, and Tavernaro said history has blessed the Yakima Valley with some of the best around.
Calling it a "gift," Tavernaro said the movements of prehistoric glaciers created sandy loam soil in the valley.
The only other place in the world with such soil, he added, is in Chile.
"Do you realize how lucky we are?" he asked with his trademark enthusiasm.
Born in northern Italy, Tavernaro's wine experience ranges from German restaurants along the Rhine River to Ceasar's Palace in Las Vegas.
But last night's chief topic was finding wines to complement a traditional turkey dinner.
Accordingly, students received samples of a Thanksgiving dinner, including turkey and all the trimmings, then joined Tavernaro in sampling four wines.
"Wine is not a drink to me," he said as he sniffed heartily at a glass of wine. "It is liquid food."
The first sample was a Pinot Gris from Gooseridge Vineyards in the Columbia Valley.
Its aromatic flavors and hint of dryness went well with the turkey and the next sample-Wineglass Cellar's Rosé of Sangiovese-opened up more flavors of raspberry jam, pepper and spices.
All of that was followed by a robust Syrah from Canyon's Edge Winery near Alderdale, which offered even more spice and some fruit flavors.
By the fourth wine, a late harvest Chardonnay from Willow Crest Winery in Prosser, students had already learned to hold the glass by the stem-so as not to leave telltale fingerprints-and taken a turn on Tavernaro's aroma wheel that pairs aromas and the types of wines they represent.
Like a fine wine, the class got better with time, finishing up by pairing the smooth and sweet Chardonnay with pecan pie.
It was worth the wait, as the wine's honey and peach flavors were a perfect pairing with the pie. It left taste buds aching for more than a small sample.
That was evidenced by some members of the class who eagerly asked where the wine could be bought and for how much.
Lower Valley residents won't have to wait long for Tavernaro's next class, as the Grandview campus will host a wine and Christmas dinner course at 6 p.m. on Dec. 7.