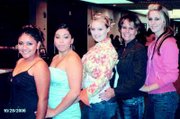 YAKIMA - Local cosmetology students made their beauty mark last week at the annual King Distribution Hair Show in Yakima.
Students from the Sunnyside Beauty Academy attended the show, held Oct. 29 in the Yakima Convention Center, and had the opportunity to learn more about their craft and compete in various categories.
Competition themes included Wild Avant Garde, Fun Party, and Glitz & Glamour.
The students were judged by area salon owners, with three first prize awards of $300 gift baskets containing professional equipment and products offered. Three runners-up received gift baskets of product and equipment valued at $150.
Lupe Chavez, a Mabton High School junior and a cosmetology student at the Sunnyside academy, earned first-place honors in the Glitz & Glamour category.
"I'm so proud of our girls," enthused beauty academy owner Gayle Hays. "They had a great time competing and learning from the individual classes."
Hays added, "We are proud to have Lupe win first place. I'm sure Mabton High School is too."
Cosmetology students at Sunnyside Beauty Academy, located at 440 Barnard Blvd., Suite 2, are taught by both Hays and Master Educator Meredith Whited.