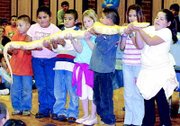 MABTON - Scott Petersen, otherwise known as the Reptile Man, took his traveling reptile show to Mabton's Artz-Fox Elementary School this past Tuesday.
Scott, a former high school biology and science teacher, has spent the last 17 years traveling to schools and libraries teaching children about reptiles.
"Snakes are probably the most beneficial animal on earth," Petersen said.
He added spiders are just as beneficial.
"Snakes eat rodents and rodents eat our crops," he said. "Snakes are good for us."
He stressed to the students at Artz-Fox Elementary School that snakes don't chase people and the students do not need to fear them.
A snake, he said, will only attack when they feel threatened.
The Artz-Fox students got to see the four types of reptiles: turtles, lizards, crocodilians and snakes.
A snapping turtle wowed the kids as did a Blue-tongued Skink, but it was when Petersen brought out the Boa Constrictor that the room went wild.
One lucky student got to hold the Boa Constrictor and it took seven students to hold an Albino Burmese Python.
As the students filed out of the gym Petersen stood at the door holding his five-year-old alligator, Lucy, for the students to pet as they left.
Petersen said he uses his traveling reptile show to educate children on reptiles.
"You don't need to kill them," he said. "It's been 50 years since a person in Washington state has been killed by a rattlesnake."