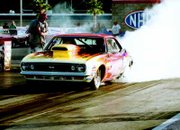 LAS VEGAS - A victory in the 2006 Lucas Oil NHRA Division 7 race in Nevada allowed Sunnyside's John Dalrymple to move up 14 spots to finish in fourth place for the 2006 NHRA Division 6 season in the super street class.
The victory came in Las Vegas on Nov. 4 because the Sept. 8 race in Fallon, Nev. was postponed after the semi-finals due to track conditions. Dalrymple said a racer 'broke his car' and spread oil on the track. After about an hour delay, while officials tried to get the track back in condition, the semi-finals started.
Dalrymple and his opponent lined up for the semi-final race and both cars would end up going sideways.
"I just stepped on it," Dalrymple said. "I didn't let up. I wanted to win."
Dalrymple's opponent had a tough time controlling his car on the oil slickened track. After nearly hitting the wall, Dalrymple's opponent steered his car away from the wall only to cross the track and almost hit Dalrymple.
Dalrymple won the heat but officials closed the track down after that.
Once the competition resumed nearly two months later, Dalrymple had to redial in his car because of the different elevation in Las Vegas.
He had to re-run the semi-final race and his opponent got a better start at the line than Dalrymple, but couldn't hit his number and his opponent broke out, which means he ran faster than the time allowed. The win for Dalrymple put him in the final race.
Here, Dalrymple said he got the best start he's ever had.
"It was almost perfect," he said.
He would need that perfect start as his opponent tried to catch him, only to bust out.
"He finished over his time by one-thousandths of a second," Dalrymple said.
Dalrymple finished in 11.11 seconds.
With his second victory of the year and first in Division racing, Dalrymple set his sights on a higher finish than fourth and geared up for another 2006 Lucas Oil NHRA Division 7 race in Las Vegas.
A mistake ended his hopes of finishing higher than fourth. With his time dialed in at 11.09 seconds, Dalrymple ran an 11.08 and was eliminated.
Dalrymple's racing team, Johnny B. Goode Racing, had two other cars in the division race.
His super gas class car, driven by Outlook's Wayne Linder, raced in four rounds and earned enough points to move up in the final standings from fifth to fourth. Michael Dalrymple, John's son, drove in the super comp dragster class and did well enough to move up from 10th place to seventh.
The week before the 2006 Lucas Oil NHRA Division 7 race, Dalrymple and his team competed in the 2006 AC Delco Las Vegas Nationals.
Dalrymple went three rounds at the national race. In the third round he had trouble.
"I had a bad light (bad start)," Dalrymple said. "I tried to make up for it and ended up breaking out."
For his efforts in the Fallon race, Dalrymple earned $5,000. He also recently bought another car, a Corvette roadster, to add to his fleet of three racing cars. Dalrymple will have four drivers on his Johnny B. Goode Racing team for the 2007 season, which should start sometime in April.