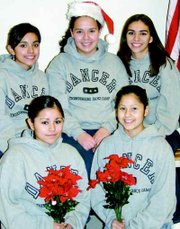 MABTON - The Mabton Vikettes dance team has good news for fans of either the school or the University of Washington, or both.
For the first time ever, the young ladies are selling purple poinsettias dotted with gold glitter, in addition to red and pink poinsettias.
"We're really stoked about the purple poinsettias," said dance coach Connie Beaman.
This is the second year the group is selling poinsettias to raise funds for costumes, according Beaman. "Last year, they made about $900," she said.
The girls will only be taking orders until Nov. 13. The Vikettes will then deliver the 6" holiday plants the first weekend in December.
Sunshine Greenhouses in Sunnyside is where the ladies place their orders.
In addition to the plants, they are selling fake wreaths, as well.
The purple poinsettias cost $11 and the pink and red plants cost $10 each.
To place an order, please call Beaman at 391-5879. Or, better yet, contact a Vikette.