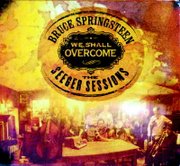 In 1997 Bruce Springsteen recorded Where have all the Flowers Gone: The Songs of Pete Seeger.
Springsteen writes in his 28-page booklet for his newest release, We Shall Overcome: The Seeger Sessions-American Land Edition, he didn't know much about Seeger when he was growing up and spent some time listening to the folk singer's albums. He said listening to these albums changed his view on folk music and set him off on a quest.
Through the E Street Band's violinist, Soozie Tyrell, Sprinsteen met a group of musicians from New York and together over three one-day sessions, We Shall Overcome was made.
With instruments such as a banjo, upright bass, washboard and fiddle, the group set up inside Springsteen's farm house and, without every playing together, sat down and jammed.
This is a live recording with all arrangements made as they played. The result, a romping, stomping good time with plenty of good music.
None of these songs will ever make the radio and I'm sure Springsteen intended it that way. The selections of songs are older, folk songs.
He starts out with Old Dan Tucker, a song made famous around 1843 and then goes into Jesse James, a song written about the life and death of Jesse James.
The song talks about Robert Ford, that dirty little coward that shot Mr. Howard. Jesse James was using the alias Mr. Howard when he was shot to death.
Mrs. McGrath, an anti-war song written in 1815, captures some of the feelings people feel today with the Iraq War.
Songs like John Henry, Erie Canal and Jacob's Ladder capture the feeling of the early 20th century, when hard work was the norm and civil rights in its infancy.
The oldest song on the CD is Froggie went a courtin', written in 1549.
Buffalo Gals, a song sung by Donna Reed and Jimmy Stewart in It's a Wonderful Life, is on the CD. It is written in the liner notes this song was about sporting women who paraded their charms in Buffalo for the arriving river barges during the Erie Canal era. He mentions the song sung by Reed and Stewart was toned down a bit.
All together there are 18 songs on the CD, with three new songs from Springsteen. An extended, 40-minute cut of the behind the scenes film are also included in a DVD that comes with the CD. Music videos of American Land and Pay Me My Money Down are also included.
Springsteen fans and anyone interested in how music was played and sounded back in the day will be pleased with this effort.