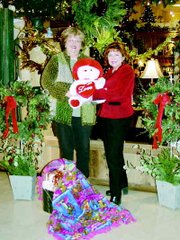 Sunnyside Community Hospital is gearing up for its annual Festival of Trees, an event that officially rings in the season here in the community.
Here's how it works: area businesses sign up to sponsor a tree, which is provided by the hospital. The trees are set up at the Mini-Mall, and designers then have five days to decorate them. Come Nov. 17, the hospital will host the actual Festival of Trees event at 6 p.m., for the unveiling and appreciation of all of the hard work.
"We are the ones that instigate Christmas in Sunnyside," said hospital employee Yolle Widdows-Guizar. "It's the first Christmas program of the season."
Work on the festival actually begins in August, when Widdows-Guizar lines up sponsors of the trees.
The event serves as a fundraiser in two ways: money is earned by the businesses that pay to be tree sponsors, as well as at the actual event that takes place next Friday.
This year, the event will feature 19 trees decorated by various local businesses. The 20th tree is a special tree in that the children of United Methodist Church are handcrafting ornaments to decorate the tree for senior citizens.
On Dec. 1, hospital workers will deliver the decorated trees, one by one, to the businesses that sponsored them, as well as the tree decorated by the children, which will be taken to the senior center.
"It's a real challenge because the trees are already decorated, even with lights," said Widdows-Guizar.
The Festival of Trees will take place on Nov. 17 from 6 to 10 p.m. at the Sunnyside Mini-Mall and will feature food, beverages and raffle prizes. Admission is $15 at the door.
For more information, contact Widdows-Guizar at 837-1601.