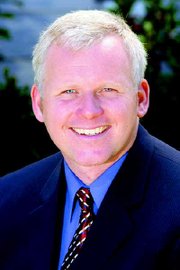 SEQUIM - Kevin Van De Wege, a firefighter/paramedic in Sunnyside from 1999 until 2001, upset a 12-year incumbent Tuesday to win the 24th District, Pos. 1, seat in the state House of Representatives.
Van De Wege, a Democrat, defeated incumbent Republican Jim Buck with 54 percent of the vote in the 24th District, which covers the entire Olympic Peninsula.
According to the Sequim Gazette, it was Van De Wege's second attempt at unseating Buck, losing a close race in the 2004 general election.
Van De Wege moved to Sequim with his wife Jennifer, a former Sunnyside High School teacher, in 2001, to work for the fire department there, Clallam County Fire District #3.
Sunnyside was Van De Wege's first position as a paid firefighter, according to Gene Smith of the Sunnyside Fire Department.
According to a press release issued this week, Van De Wege says he has fond memories of the Yakima Valley.
"The times we spent in central Washington were some of the happiest years of our lives," Van De Wege stated. "We loved the small town atmosphere and tight knit communities."
In the press release, Van De Wege pledges to helping central Washington farmers with alternative energy sources.
According to a story in this week's Sequim Gazette, Van De Wege ran on a platform of being the "voice" for working families on the Peninsula, creating family wage jobs, making health care affordable and accessible, ensuring the quality of public schools and protecting highway safety.
According to the press release, Van De Wege plans to continue serving the Sequim community as a firefighter/paramedic in addition to his legislative duties.