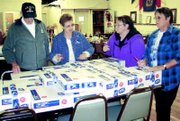 GRANDVIEW - It makes perfect sense that Grandview VFW Post #6929 would adopt the National Guard 790th Company housed in Grandview. In the past, they've adopted troops from other companies, as well as the grandson of a Ladies Auxiliary member.
What makes this adoption different is the fact that the company is so big--there are nearly 200 soldiers that serve in the 790th.
The soldiers were celebrated with a big send-off last August at Grandview's Country Park Fairgrounds, prior to their training and ultimate deployment to Iraq.
Now that they're there, the Post has swung into action.
"We need to let them know they're not forgotten," says Grandview's Post Commander Mingo Ramirez. "They joined to serve the country and they're over there doing what they have to do. We more or less understand what they're going through."
A Vietnam veteran, Ramirez understands how support makes a difference--whether it's present or not.
"We didn't have any support ourselves and this is a good opportunity to support these people," he said, adding that it's not about supporting the war, it's about supporting the soldiers.
Ramirez noted that this is the first time the Post has taken on a support project where there's so many individuals to provide care packages for.
"Donation wise, it's a very big effort, from the Post level to the community level."
The various organizations within the Post (the Ladies Auxiliary, the Mens Auxiliary, the Am-Vets and Am-Vets Auxiliary) have all banded together to send holiday packages to all of the soldiers.
Recently, even kids whose parents are Post members jumped in to help. Young Alicia (9) and Patrick Galvan (14) and Rigo Pacheco rolled up their shirt sleeves and washed cars, raising $250 to be applied to postage. Pacheco's older brother is in Korea right now, waiting to be shipped to Iraq.
And they've had help from other Posts in the valley too. The Sunnyside and Prosser VFW's have pitched in to help.
What's on their wish list? According to Ladies Auxiliary Chaplain Louise Bianchi, the soldiers want lightweight Christmas decorations, gum, popcorn, chapstick, beef jerkey, hard candies and mints.
They'd also like posters to decorate their walls, as well as sheet music and paperback books.
"They also need flavoring for the water," said Bianchi, adding that the water tastes pretty bad over there.
Already, the Post has raised money to be used to buy what's needed, as well as pay for postage. The group is using the flat-rate boxes provided by the Post Office. The Wal-Mart Distribution Center donated $1,000 and members of the Ladies Auxiliary are planning a shopping trip this Sunday. Once they obtain the necessary items, they'll head back to the Post and start packing boxes.
This past Thursday, a small group was on hand to get some of the boxes packed. Although there were about 18 boxes, Bianchi said, "This is just a tip of the ice-berg."
This Saturday, which is Veterans Day, the Post is opening its doors to the community, so that individuals can come sign a table-runner style banner in support of the local soldiers. Bianchi said that wee-ones who can't yet write can leave their footprints or handprints on the banner. The banner will be tucked in with their care packages.
Said Post member and veteran Don Pierce, "We do stand behind every person that's in the service, regardless if it's Air Force, Army, etc. You name it, we support them. We love our troops.
"We all care for them and that's what counts."
Community members can sign the banner from noon until 8 p.m. on Saturday. Those who wish to donate any of the items the troops are asking for may do so at that time. Another option is to attend the Post's Veterans Day service at 6 p.m., with a potluck to follow, and sign the banner then.