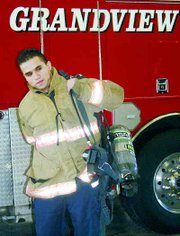 GRANDVIEW - The Grandview Fire Department is currently seeking volunteers to serve within the community and, in conjunction with that, they're eager to try a pilot program that eases time spent in training.
Thanks to a partnership between Yakima County Fire District #5 and the Grandview department, training is about to become much less demanding timewise.
"The biggest challenge for a new recruit is the time involved with the initial training that is required," explained Grandview Fire Chief Pat Mason. "Once a year, there's a three-month recruit school in Toppenish and a volunteer has to go every Tuesday and Thursday evening, and at least every other Saturday. They have to complete 160 hours of training.
"What we're going to do here in Grandview is in-house training that depends more on the time schedule of the volunteer. We're going to try alternative types of instruction."
There are four components to the recruit class in Toppenish: lectures, hands-on practice, hands- on practice at a station and a book to study, with testing that follows.
With the pilot program, volunteers can use a computer that will take the place of lectures, the book work and study guide remain the same and the volunteer is then assigned to a firefighter at the Grandview station.
Says Mason, "What's nice about this is it allows a person to get signed off in stages. Once the first aid portion is completed, then we can release that person to go on certain calls. Once two-thirds of the program is completed, then we can send the person on fire calls, but they'll wear an orange helmet to signify that they can't do the more dangerous work the other firefighters do and they won't be able to do anything that requires an airpack.
"This way, instead of waiting, it allows them to get some experience earlier."
Mason said the pilot program is great for a self-motivated person that either doesn't want to wait for the annual recruit school, or who wishes to complete the training in a shorter period of time than the three months.
When will the pilot program start? As soon as new volunteers join the department, which is needed.
Currently there are 21 volunteers that serve the Grandview Fire Department, and Mason is hoping for six new volunteers within the next year.
Another benefit to the pilot program is that there's no set amount of participants needed to make the training happen.
"When a person comes in to train, they're not dependent on anyone else as far as the timing of the training," said Mason.
"This way, we can train one person at a time," said Mason.
In order to become a Grandview volunteer firefighter, an individual must be 18 or older, have no record of a felony, have a valid driver's license and good driving record.
Once the application is complete, a volunteer then undergoes a physical and obtains a first aid card, and training begins.
Mason said that volunteers do get paid twice a year by the city. And, there's a firefighters pension through the state of Washington that costs $60 a year, which Grandview pays. Mason said that the maximum amount of years to pay into the pension is 25, and as of this year, those who've paid the money for 25 years draw $280 a month, which isn't bad for volunteer work.
Mason said that one of the benefits of being a Grandview firefighter is that the group is very tight-knit and enjoys each other's company very much. And, he adds,"There's a potential here to really make a difference in the community."
Adds volunteer firefighter Omar Gomez, "It's fun and exciting--you get to experience a lot of different things. And helping out the public is cool too."