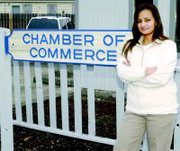 Monica Moran, secretary for the Sunnyside Chamber of Commerce, didn't have any idea how many businesses were in Sunnyside until she started working for the chamber.
"I would drive by and see a new business but I had no idea there was that many," Moran said.
It wasn't until she started keeping a running tally of businesses that are members of the chamber of commerce that it hit her.
"There are approximately 200 members here in Sunnyside," she added.
Moran has been at the chamber of commerce office since February 2006. She had been working at Independent Food Processors in Sunnyside as a secretary for the last eight years but had been looking for something part-time.
After high school and spending one semester attending DeVry Institute of Technology in Phoenix, she came back to the Lower Valley and started taking classes at YVCC while working at Smitty's Conoco in Grandview. She worked at the Mr. Payroll office inside the gas station. She would cash checks for people, sell Greyhound tickets, cash money orders and sometimes do payday loans.
She went to work at Independent Food Processors for a higher wage and more hours.
Since Moran is bilingual, she would make the work schedules for the Independent Food workers and translate for them. She also did payroll, which required her to keep track of the different jobs the employees would perform. Some employees would do more than one job and each job had a different pay scale. Keeping track of that could be hectic, she said.
She liked her job at the processing plant but wanted to enroll at WSU in the Tri-Cities and thought a part-time job would be a better fit.
Now, Moran is earning her business degree with an emphasis in management information systems and is presently in her third semester.
Her duties at the chamber are to answer phones, mail out visitor guide information relocation packages and keep a running list of chamber members.
The visitor guide information and relocation packages are for people moving to the area. Moran sends them a map of the town, phone numbers for utilities and she can also recommend certain businesses to the person moving here. A phone book is also given out.
Moran also coordinates ribbon cutting ceremonies. When a new business opens in town the chamber will schedule a ribbon cutting. Moran contacts the local newspaper, the royalty in Sunnyside and other chamber members. Ribbon cutting ceremonies are done for all businesses in Sunnyside, whether they are a chamber member or not.
She said the chamber's mission is to promote the economic interest of the greater Sunnyside area.
"We're here for the businesses," she added.
She said working at the chamber has been a good fit for her. She is getting her degree in business and figured what better way to gain experience than by working with businesses in the community where she grew up.
"This gives me a chance to inform myself to what's going on in my community," she said. "I get to meet business owners in the area and make connections and build relationships."
That's important to her because one day she wants to have a business in Sunnyside. Her father is the director at the Casa de Esparanza House of Hope. This is a drug and alcohol treatment center connected with the Yakima Valley Farm Workers Clinic and there are two of them, one in Yakima and one in Grandview.
Moran would like to use her business degree to help her father start his own treatment center one day, something she said he has shown interest in. Working at the chamber is giving her some valuable experience.
But, Moran still has one year until she will finish her schooling. So, for now, she will continue her schooling and her duties at the chamber office.