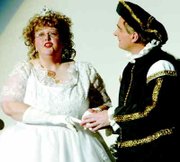 All of the acting was exceptional this past weekend, but it was Linda Martin as Portia and Joyce Taylor as Joy who stole the spotlight. The two evil step-sisters were truly frightening and provided comic relief at the same time.
Over the Hill Theatricals presented the first two performances of "Cinderella" at the Sunnyside High School auditorium this past Saturday and Sunday. Three more productions are planned for Nov. 17-19.
The theatrical group is made up of 45-year-old and older actors from the Lower Valley. This group has been together for some time now and their ease with one another shows. The set pieces were believable and the costumes beautiful and authentic.
The story opened with the townspeople excited for the ball to be given by the prince, played by Paul Brooks. It seems his parents believed it was time for him to get married.
In the next scene, Cinderella, played by Charlene Maling, and her sisters discuss the prince's ball. The whole time the evil sisters, Portia and Joy, order Cinderella around while their mother, played by Sheila Hazzard, sits idly by.
The sisters are so rude and mean, they keep ordering Cinderella to close the window. Over and over the sisters squawk out the order. The scene is done so well you want to scream at the sisters to do it themselves.
More fine acting was done by Dan Santos and his wife Karen, who play the King and Queen. Dan Santos had the audience laughing with his physical acting and facial expressions.
The ball features exquisite costumes, and includes a hilarious moment when the Prince cringes in disgust when he sees Portia for the first time. The evil step-sisters are so horrid, they are unable to find anyone to dance with them and are forced to dance with themselves.
Another priceless moment is the scene after the ball when the evil sisters are claiming to each have spent more time with the Prince than the other. They end up boohooing the fact the Prince was interested in that "other" woman and sing a song asking what's wrong with men?
This group clearly has a good time being in each other's company and the tight acting is the result. This group knows what it's doing.
There are still three more showings left before the curtain closes. For those who didn't catch either of the two performances this past weekend, it's a must that you attend either Friday, Nov. 17, at 7 p.m. or Saturday, Nov. 18 or Sunday, Nov. 19, at 2 p.m.