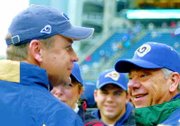 SEATTLE - A last-second field goal by Seattle Seahawk Josh Brown yesterday spoiled hopes of a homecoming win for St. Louis Rams Head Coach Scott Linehan, a Sunnyside native.
But it didn't spoil the good feelings and goodwill for a native son who has reached football coaching's pinnacle in the NFL.
Rick Linehan, one of Scott's six siblings, said there were 27 Linehan family members on hand for the game.
And it looked like most, if not all, were on the sidelines prior to kick-off on Sunday, hugging Scott and exchanging smiles and greetings for a local son who's done well.
"We're so proud of Scott," said Rick Linehan, a principal at Kiona-Benton High School. "We're fans of Scott, so we're Rams' fans now."
Both Rams and Seahawks fans had something to cheer about in Seattle's 24-22 victory.
St. Louis' bend-but-don't-break defense led by assistant Jim Haslett helped the Rams to a 10-7 first quarter lead despite surrendering nearly 120 yards to the Seahawks' offense.
And that's been one of the surprising stories for the Rams this year.
Scott Linehan earned high marks as an assistant, coaching high-powered offenses for first the Minnesota Vikings and then the Miami Dolphins.
But the Rams-previously known for their "fastest show on turf" pass happy offense-in Linehan's first year have pursued a more balanced offense, and shown toughness on defense.
Though 4-5 on the season, they are just two Josh Brown field goals away-Brown also beat the Rams earlier this year on a last-second boot-from being 6-3 and atop the NFC West. Last season the Rams won just six games.
"Our guys know that the division goes through Seattle," Linehan said when he first took the helm at St. Louis, a divisional rival of the Seahawks.
Like his brother Rick, Linehan knew that allegiances would have to change.
"I'm happy to see the Seahawks do well. I grew up a Seahawks fan," Linehan said before the season started. "But I'm a Rams fan now."
At the same time, there's one allegiance that hasn't changed for a big-time NFL coach who still remembers his small-town roots.
Grinning ear-to-ear, Linehan paused just before kick-off to say, "Tell the folks back in Sunnyside hi for me!"