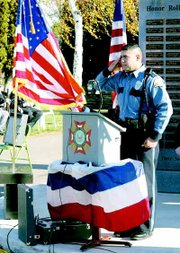 City leaders and residents turned out Saturday at Sunnyside's Lower Valley Memorial Gardens to honor past and present veterans on Veteran's Day.
On a clear, brisk morning, Senator Jim Honeyford, State Representatives Bruce Chandler and Dan Newhouse, joined city officials and residents to listen to special guest speaker Jose Navarro, a Sunnyside Police officer and two-tour veteran of Iraq.
Commander of American Veterans Post 3733 Jo Goodwin was the first to speak.
"We honor all our veterans because freedom is not free," she said.
Event coordinator Greg Schlieve added Americans live with security in this world and most times people don't think about it, but take it for granted.
"Our security is due to our military servicemen," he said. "We've come here today to acknowledge that simple fact. We thank them (servicemen) for their service."
He then introduced Navarro, adding there isn't a draft in these times and America's service men and women make great sacrifices.
Navarro thanked everyone for the warm reception he received. He said when he was in Iraq, the happiest times were when he would receive word or have contact with his family.
He related that the news media coverage while he was overseas always focused on what was going wrong in Iraq.
"It seems like each month was always the deadliest over there," he said. "What they don't say is all the positives that are happening."
Navarro said the military is helping Iraqi families, children and building an Iraqi Army. He mentioned the pride he felt when taking medical supplies to a little village.
He said the first time he was hurt in Iraq he was struck by a car, on purpose.
"I hated these people," he said. "But then I thought about it. If you dwell on hate you won't go forward in this world."
Navarro told the story of meeting a former Iraqi National soccer player who was tortured because his team didn't win a championship.
"It's worth it to fight for people like that," he said.
His voice broke as he mentioned the three men who died when a tank he was in was destroyed by a roadside bomb.
Killed were First Sergeant Gifford, Sergeant Deckerd and Specialist Ford.
"They didn't die in vain," he declared.
A whipping wind started about that time as Navarro finished his comments and the crowd applauded.
"It looks like God was clapping for him too," Schlieve said of the sudden wind. "I'm honored to know you, Jose."
The ceremony ended with a prayer and then the color guard fired off a 21-gun salute. Floyd Olson then concluded the ceremony with a somber bugle rendition of Taps.