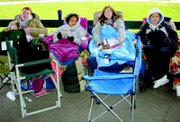 The Sunnyside High School Key Club participated in a freeze out last Friday to help raise money for a former school employee with cancer and at the same time collected clothes and food for the needy.
"We try to do this every year," Ryan Maxwell, a Sunnyside High School assistant principal and Key Club advisor, said. "This year the kids did it to help a local person who has cancer."
From Friday, at 8 a.m. to Saturday, 8 a.m., Maxwell and the Key Club spent 24 hours at the Gazebo downtown, hanging out, being cold and collecting money.
Together they were able to raise $1,150 for Kathy Woods, a former Sunnyside School District employee who now has cancer.
"It was very successful," Christine Kim, Lt. Governor for the Key Club's division 50, said. "I'm really happy with that. We've never raised this much money before."
Kim said the Key Club usually raises money for the Red Cross but Key Club treasurer, Laura Aguilar, came up with the idea to help Woods with expenses.
Along with raising money for Woods, the Key Club members were able to collect 15 boxes of food for the Sunnyside Food Bank and 10 big bags of clothes, which were donated to St. Vincent de Paul's.
"The kids organized every bit of this," Maxwell said. "They planned all of it."
Kim said 15 Key Club members stayed the entire 24 hours.
"It was pretty cold," Kim said of the 24-hour freeze out. "It was 30 degrees in the morning."
She said most of the club members played games to stay warm.
"It was a very good experience," Kim added. "It was very cold but we did a lot of ice breakers and got to know other members of the club."
Kim said the day started out with Maxwell making the club members pancakes. They also had plenty of hot chocolate to chase away the cold and Fiesta Foods donated chips for the students to munch on throughout the day.
The Key Club had spent time before the freeze out gathering sponsors to earn money for their sacrifice. Besides the money earned from sponsors, Kim said more than 100 people stopped by the gazebo to offer support or donate money, food or clothing.
"We received a lot of money from people at the stop light," Kim said.
At night, Key Club Secretary Hannah Paulakis' parents stopped by and fed the club members spaghetti. A little later, Key Club member Haley Soto's aunt and uncle stopped by with hot chicken noodle soup to keep them warm during the night.
In the morning before the 24 hours ended, they munched on doughnuts brought over from Safeway.
"The Key Club kids are a motivating group of kids," Maxwell said. "It's a neat group. They care about the community in which they live. They want to make it better."
Kim said the food will be given to Sunnyside Food Bank today (Monday) and the club is planning on presenting the money to Woods in the near future.