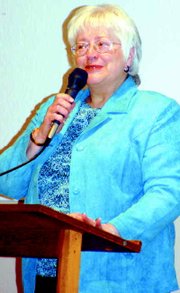 PROSSER - Wyoming native Lois Williams set the crowd laughing with a youthful tale of ending up on Cape Cod when she was supposed to meet her then boyfriend-now husband of 41 years-Fred in Connecticut.
Then Williams got serious with the audience on hand for the Lower Valley Christian Women's Club luncheon, held Monday at The Barn Restaurant.
She described how she found a spiritual map and direction in her life when she "gave the steering wheel to God."
Williams is now retired in Lacey, Wa., where she lives with Fred.
On Monday, Williams described her journey that found direction through a relationship with Jesus Christ.
She recounted how when she was just nine years old her mother died of polio.
"Losing a parent is a defining moment, especially as a small child," Williams told the group.
For Williams it was doubly difficult, she said, because as the daughter of a minister she was told to hold in the sorrow and mourning over her mother's loss.
"As a preacher's daughter I had to put a good face on it," she said.
That, she said, led her down a road of struggles as she acted out that sorrow in other ways.
One of those ways, she said, was feeling like she had to earn God's love. Williams said she worked hard to feel that she was a good person.
But she was never quite good enough.
That pattern led Williams to believe that she could be good on her own and didn't need God's help.
It also led to stress.
"The inner turmoil affected my health," she said.
When a friend asked if her health problems were related to spiritual issues, Williams said she recoiled at the notion.
"I knew all about Jesus," she said.
But she also knew that her head knowledge of Jesus had not changed her heart.
"I realized that deep down inside I hadn't made room for Him," Williams recalled.
Williams said that realization allowed her to admit that she needed Jesus and to let him take control of her life's map and direction.
"God knew I couldn't get it right," she smiled. "That's why he sent Jesus."