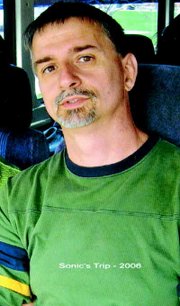 Galen Potter, a 45-year-old Sunnyside man, has been missing since leaving his home Sunday morning.
"My father is a diabetic and is having kidney problems," Amberli Bottineau, daughter of Potter, said. "If he doesn't take his medication within a couple of days he won't make it."
Bottineau said her father had an adverse reaction to his medication Sunday morning and needs to have it changed. According to her, he became extremely angry and depressed and left his house in Sunnyside.
Apparently he was walking on the highway when he was picked up by a friend, who took him to Toppenish. That's the last time Potter has been seen.
Bottineau said her father doesn't know anybody in Toppenish and left without his wallet. He was wearing black pants and a black windbreaker with white tennis shoes.
Bottineau has contacted the police in Sunnyside and Toppenish and said the Yakima County Sheriff's Department is involved as well.
She is asking if anyone sees her father to call their local police department or her mother Deanna, at 509-837-2345.
"We just want him home," Bottineau said. "He has a two-year-old granddaughter and one on the way. We miss him very much."