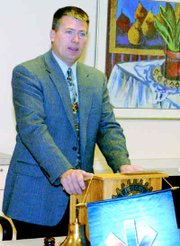 Stress can come in many forms but during the holiday season, stress can be increased from seemingly non-traditional sources.
Dave Wilson, a chemical dependent professional and executive director of Merit Resource Services in Sunnyside, spoke at the Wednesday Sunnyside Daybreak Rotary Club meeting on how to cope with holiday stress.
Merit Resource Services was created in 1979 in Toppenish as a drug and alcohol treatment center. Today, the center has 60 employees, treats 600 patients and has offices in Sunnyside, Wapato and Yakima.
"I've been a counselor for 24 years and the holidays have been a problem for a lot of people," Wilson said.
He said money is usually the number one cause of stress during the holidays. Some people don't have enough money for the holidays or some spend too much money during the season. Others, who don't have available funds, use credit cards to finance the holidays and then become mired in debt.
Wilson explained that stress is the difference between what you have and what you want.
Relationships can also cause stress over the holidays. Seeing and spending time with family members can be stressful for some people.
Alcohol and food can also cause stress.
"People, with problems or not, usually consume a lot of alcohol during the holidays," Wilson said. "This can cause problems that can spill into their life or work, causing stress."
Food, whether eating too much or purposely trying to avoid eating too much, is another cause of stress.
Even winter conditions, such as driving on icy roads or the lack of daylight hours can be known to cause stress.
So, what can be done about it?
Wilson said the first thing people should do is recognize what is triggering the stress.
"Each person has a different set of stressers," he said.
If money is the cause of the stress, he suggested putting the credit card away. Make family decisions on how the money will be spent and keep within the agreed upon budget.
Wilson also suggested not waiting until the last minute to do things for the holidays.
"Plan ahead," he told the Rotarians. "Don't wait until the last minute to do your shopping."
Scheduling some down time can also help, he said. He suggested doing something relaxing and make sure to work it in their schedule.
He said if people tend to overindulge at parties, they should limit their time at these parties.
Exercising is also key. Wilson said people who run or play golf for their exercise can sometimes slack off during the winter months.
"Keep up your exercise program," he said.
A person can also simplify their plans, as well. Most importantly, he said, "If you need help, go seek it."
Wilson reminded the Rotarians it's OK to say no during the holidays.
Lastly, he said one way to reduce the stress during the holidays is to do something nice for someone else without them knowing you did it.