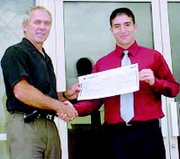 Sunnyside's Joel Ledesma Jr. was awarded $2,500 from Canam Steel Corporation's employee scholarship program, the company announced.
Ledesma received the scholarship to help him in his ongoing college education at Washington State University at Pullman.
Ledesma is studying civil engineering and his goal upon graduation is to start a career in engineering.
Ledesma said he is grateful to Canam for its assistance and will use the money to pay for a new laptop he needs for his studies.
He also thanked his father, Joel Ledesma Sr., for always looking out for him. His parents both expressed their pride in Joel's accomplishments and their gratitude for the Canam scholarship.
Canam also awarded scholarships to other students whose parents work at Canam Steel Corporation.
In order to qualify for the scholarship, one of the parents had to have worked for a Canam Steel Corporation facility for at least one year prior to applying; the student must have a minimum academic average of a C during the school year without having failed any courses; and must not have received any previous Canam scholarship.
Names submitted by employees were drawn at random last August.