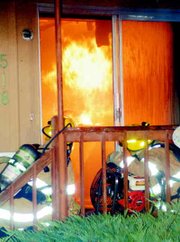 More than 30 firefighters responded to a house fire last night at 518 11th St. in Sunnyside.
The large contingent responded to the fire, which began in an upstairs bedroom and virtually gutted the inside of the house.
And the firefighters, at least most of them, knew about the fire six months in advance since it was a training fire for the Sunnyside department's paid and volunteer staff.
Sunnyside Fire Chief Aaron Markham said the department tries to have one controlled, practice fire each year to keep firefighters prepared for the real thing.
"Any time you have an opportunity like this is great," said Chad Werkhoven, a volunteer for both the Sunnyside Fire Department and Fire District #5. Werkhoven noted a controlled, training burn is an opportunity to see fire's behavior.
For all of the firefighters, like Dennis Blumer, a paid firefighter/paramedic with Sunnyside since 1996, it was an opportunity to stay up to speed with constant changes in fire technology. He noted that all sorts of fire gear, including the hose connections, are upgraded all the time.
Deputy Fire Chief Lloyd Hazzard said the controlled fires also provide training in teamwork as each firefighter is assigned to a particular station, whether it be manning the pump or monitoring firefighter safety at the scene.
One difference between this and most other controlled burns is that the fire was not allowed to fully engulf the house.
Smoke bellowed out of windows upstairs and downstairs as first one training crew and then the next were able to set a fire, then extinguish it.
Hazzard said the house wasn't burned to the ground because of safety concerns with trees and pine needles in close proximity.
"It's always safety first," he said.
The house's owner, Sunnyside Community Hospital, will demolish the house next week. The hospital owns a neighboring house, which the fire department will use next year for a training situation.