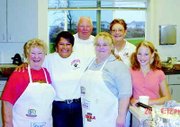 The Churchill Media family of stations, La Maquina/La X 98.7 FM, Radio Tekila 101.7 FM and KZXR-The Source 1310 AM, are inviting families of the Valley to their Thanksgiving dinner for the less fortunate.
Turkey with gravy, potatoes, rolls and more will be served to those who might not be able to have their own Thanksgiving dinner this year.
This is the fifth year of the Thanksgiving Day dinner for the less fortunate and the second year it will be held in Sunnyside at the community center, located at 1521 S. First Street. Dinner will be served from 1 to 5 p.m.
The Churchill Media family of stations would like the public's help in spreading the word about this special dinner. They are asking people who might know someone in need this year to tell them about the dinner.
Members of the Sunnyside Lions Club and the Sunnyside School District's Readiness to Learn Program will cook and serve the Thanksgiving dinner. Also assisting will be Partners Worldwide.
The food is being donated by Grandview Market Place, Double D Steakhouse, Food Pavilion, Coastal Pacific Mortgage and Real Estate, and Super Bakery.
Frank Allec, general manager of Churchill Media, said last year more than 1,000 people from the Valley were served Thanksgiving dinner.
photo provided by Frank Alec
For the second straight year, Churchill Media will provide Thanksgiving dinner for the less fortunate at the Sunnyside Community Center.