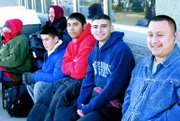 When Sony released its Playstation 3, it was hot news for a cold group that gathered in front of Wal-Mart at 6 a.m. this past Wednesday to get in line to spend $599 for one of only 12 systems that went on sale at 12:01 a.m. this morning (Friday).
Six who huddled through the 42 cold hours were assured that they would walk away with a Playstation 3 that is supposed to be 40 times faster than the Playstation 2. And among game enthusiasts that's something worth waiting for.
The other six who camped out were waiting to receive rain-checks that would put the new game system in their hands in anywhere from two days to three weeks.
"It's worth waiting for," said Hector Mendoza of Grandview, who was first in line to receive one of the rain-checks.
Mark Gourneau of Mabton was holding down the first chair in line, wrapped in multiple layers with a box of thermoses full of hot chocolate next to him. Gourneau and two relatives expected to buy the first three Playstations. Eric Bingham of Sunnyside was getting paid $100 to hold a place in line for one of those relatives.
Leo Solano of Outlook, a 25-year-old game fan, combined a 3 to 11 p.m. work shift in Toppenish with his wait. When he had to leave for work, he paid his sister and his father $50 each to take turns sitting in for him.
"And they each get to play a game, too," Solano said with a laugh.
Why subject themselves to 42 uncomfortable hours?
The faces of everyone waiting in line lit up as they eagerly talked about the Blue Ray DVD drive of the Playstation 3 that, if bought separately, would cost $1,000, the motion sensor wireless control, the sharper graphics and most of all the speed.
"You can have 40 people online without any lag," said Mendoza enthusiastically. "You can play video games, watch DVD and Blue Ray with the new DVD movies, surf the internet and play online."
"I've been a game player all my life, starting with Atari and Nintendo. I've got Playstation 2, and Playstation 3 is a huge improvement," said Solano.
Mendoza, who had come dressed in white shirt and tie straight from his job at MoneyTree, had only a light hooded sweatshirt to help him combat the cold.
"I didn't think I'd need more," Mendoza said, smiling around his pink nose and flexing fingers turning blue. "It's no problem. That control will warm them up!"