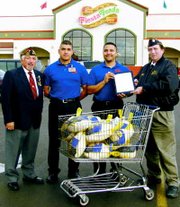 MABTON - Following the model set forth in nearby communities, Mabton VFW Post 10384 has collected enough food to feed the families of 15 veterans this Christmas season.
According to Grandview VFW Post Mens Auxiliary member Jimmy Sternitzky, it was extremely challenging trying to find a willing donor for the 15 turkeys.
Sternitzky has helped with the Grandview VFW holiday food program for years and Hanford, for many of those years, has supplied the turkeys.
But Mabton's project was new this year and they were not included in the poultry donations.
After placing a call to Sunnyside's Fiesta Foods, the problem was solved. By that afternoon, Sternitzky picked up the prized poultry.
"They really came through for us," said Sternitzky. "I don't know where else we could've gotten the turkeys."
Says Store Manager Leo Leal of the donation, "We felt it was important to do because Fiesta Foods wants to do as much as possible in the community.
"The veterans are an important part of the community, therefore they're important to us."
Manuel Soto, Captain of Mabton's Color Guard, said that without Sternitzky's help, and the help of others (including Fiesta Foods), the project wouldn't have been completed.
"It's a team effort, not just one person," said Soto.
Soto, like Sternitzky, has helped with the food program in Grandview.
What inspired the Mabton Post to do it for their community?
"Something needed to be done," Soto said. "There are a lot of veterans out there that need the help. They're low income and they're struggling."
Soto said that the Post is willing to help veterans in need and to call 391-5824 for more information.