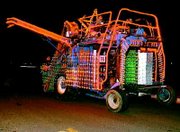 When you stand on a corner watching the Sunnyside Lighted Farm Implement Parade pass by on Saturday, Dec. 2, don't forget to snap a salute for Edward Johnson.
Who is Johnson, you may ask?
Well, he isn't this year's parade marshal, but he is a guy who had an idea 124 years ago that has put a powerful glow into the Christmas season.
The first electric Christmas tree lights were created by Johnson, who was an inventor and business associate of Thomas Edison, proclaimed inventor of the light bulb.
That first known electrically illuminated Christmas tree stood in his home in New York City in 1882...and Johnson became known as The Father of Electric Christmas Tree Lights. Before his invention, Christmas trees were illuminated with candles, and many trees were set ablaze.
Johnson was a partner in an early organization that evolved into the General Electric Company, one of the largest Fortune 500 companies in the U.S. He was also vice president of Edison Electric Company, predecessor of Con Edison.
His electrical strings of lights didn't become mass produced until the early 1900s by Ever Ready, but by the 1920s General Electric had created an improved product.
Johnson wasn't around to see his invention mass produced. Born in 1846, he died in 1917.
At this year's parade in Sunnyside all of the farm implements entered in it will be illuminated with colorful Christmas lights.
So, when a float glides by agleam with 23,000 lights, as Cliff's Septic Service's entry did last year, remember Father Johnson, who started the ball rolling.
Sal Guillen, one of the managers of Sunnyside's Ace Hardware, said the crew there are doing their bit to make the 2006 parade one of the brightest around.
"We and a lot of the stores locally give 10 percent off to anyone with a parade entry form on any Christmas stuff that can be used on their floats," said Guillen.
"We've already had one company come in and take all the solid red and green lights we had and ordered a dozen more boxes of 150 lights each. They wanted to buy the basic red and green now, because they know those colors sell fast," said Guillen.
Ace Hardware mainly stocks basic colors, which seem to be the ones most desired by the parade decorators.
"And they mostly want the Mini, which is a small light bulb, the C7, which is a little larger, or the C9, which is a bigger bulb," said Guillen.
"But we're seeing a lot more rope lights and LEP lights, which are tiny lights that use less energy but have a nice bright light," he added.
Guillen said Ace ordered its Christmas lights in August, well in advance of the holiday season.
A week before Thanksgiving, the Ervin Kilian family starts decorating the farm machine they've entered in all but one of the parades since it began.
When their entry comes down the street with its four or five thousand lights, it gets lots of oohs and ahhs.
"And you can see people asking each other, 'What is it?' and then someone will do a shaking motion with their hands and you know they're explaining what it is," said Kilian, whose Chisholm-Ryder grape picker is not a familiar sight to those who haven't seen grapes harvested with the automatic picker, which shakes the grapes from the vines.
"We'll be in the parade again this year, if I get it all stuck back together by then," said Kilian, who was engaged in repair work on the picker, which was used in this year's harvest of 800 acres of Concord and Niagra juice grapes.
Kilian said once he gets the picker ready for next year's harvest, he and his wife, Sharon, his daughter, Coleen, and her husband, Paul Goulet and their children, Dillon, 12, and AJ, 10, will get to work stringing it with lights.
Kilian said his family opts to use strings of the regular indoor/outdoor type lights. "The real little ones," he said. Any generator they can come across capable of firing up all the lights they've chosen is what they'll put to use this December.
"The picker has no outer shell, but we try to decorate the outside as best we can, and we hang different novelties on it, like lighted cubes that look like presents or maybe a star on the back," said Kilian.
"After 18 years, it's hard to come up with a new idea," he added.
The picker's platform can hold up to six people, and, at one time or another, most of the family has taken turns driving it in the parade. Dillon, who drives it in the field, probably will be at the wheel in this year's parade, along with his granddad.
There was that one year that Kilian didn't decorate the grape picker, but the response he received has kept him from leaving it out since then.
"One year I got tired of decorating it because it's hard to do since it doesn't have an outer shell, so I just put in a Ford semi truck that was easier to decorate," said Kilian. "I got about a hundred people calling me to say, 'Why didn't you put the picker in?'."
In the past 18 years, Kilian has seen his share of highs and lows when it comes to decorating and parading.
"The best thing about the parade is just to see the joy on the people's faces as they watch, not just the grapepicker but all the floats," said Kilian.
The worst experience he's had on parade night?
"That has to be the time it was 15 degrees and fog settled in right downtown. I froze...I shouldn't say what I froze off, but that was the worst, especially driving the picker the six miles home," said Kilian, whose farm lies north of Sunnyside on Ray Road.
There will be at least 60 other crews working to light up their parade entries this year, if last year's entry list is any indication of how many will join in the fun.
A committee of about 10 people organize the parade that was started 18 years ago. Chairman for the third year is Jeff Norem, a loan officer at American West Bank in Sunnyside.
Sponsors of the 2006 parade are Banner Bank, Sunnyside Community Hospital and the Port of Sunnyside.
"The financial help we get from the community is just wonderful, with our sponsors and the ones who provide the prize plaques. The community makes the parade possible. It's all non-profit," said Jim Warren, one of the members of the parade committee who helps with organization and fundraising.
"We have seven or eight thousand dollars for advertising this year, and we're expanding advertising down to the Columbia Gorge, to Hood River, to try to let more people know about it and try to get more people in town," said Warren.
The parade will have new logos and banners this year, according to Warren.
This year's parade will start at Sixth Street and Warehouse Avenue in downtown Sunnyside. It will proceed south on Sixth Street, east on Edison Avenue and then cross Yakima Valley Highway to end in the parking lot at Mid Valley Mall.
Parade viewers can vote for People's Choice by casting ballots at boxes provided. One of the ballot boxes will be at the gazebo at Centennial Square at Sixth and Edison.