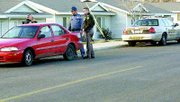 A 25-year-old Sunnyside man whom police say was recently released from prison may be headed back for another long stay in a cell.
Andrew Reihs, 25, of Sunnyside was taken into custody by local police shortly after 3 p.m. yesterday, following both a vehicle and foot pursuit. Initial charges pending against Reihs include auto theft, illegal possession of a firearm, driving with a suspended license, attempting to elude police and possession of stolen property.
Patrolman Darin Scott spotted a vehicle reported as stolen at about 3 p.m. Thursday and attempted to stop the motorist. The driver refused to pull over, however, and engaged Scott in a police pursuit.
The pursuit, said local police, started on 16th Street, continuing to North Avenue, where the majority of the chase occurred.
"During the pursuit the suspect tried turning at an intersection at too high a rate of speed, sliding into the front of a vehicle stopped at the stop sign," explained Police Sgt. Preston Kelley. "No one in the second vehicle was injured."
Kelley related that Reihs drove through three stop signs during the pursuit while reaching speeds of 50 miles per hour within the city limits. Reihs, said local law enforcement officers, ended up exiting the stolen vehicle and led police on a short foot pursuit through several back yards before being taken into custody.
During the vehicle pursuit, said police, Reihs kept reaching under the front seat of the stolen vehicle. Kelley said after the scene was secured, police searched the stolen vehicle and recovered a loaded .45-caliber handgun. The gun, he said, will be turned over to the Washington State Patrol crime lab for processing.