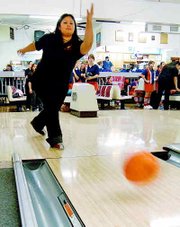 Despite a nifty 332 two-game series from Veronica Uribe, the West Valley High School girls bowling team defeated the Sunnyside Lady Grizzlies Thursday afternoon, 3-1.
Yesterday's defeat dropped Sunnyside's record to 1-3 on the season.
The Rams got a pair of 184 and 168 efforts from Angela Brown and Amy Friedt, respectively, in the opening game enroute to scoring a 757-575 victory. In the losing cause, Uribe had the top score for Sunnyside with her 139.
Sunnyside boosted its second game total to a 669, thanks in part to Uribe's 193 and a 143 by Jackie Francis, but West Valley still prevailed, via its 796 total pinfall. The Rams kept all five individual scores between 151 and 168 in the second contest.
The lone point the Lady Grizzlies secured yesterday came in the first of two Baker games, a 134-122 decision. The Baker format calls for each member of the five-girl squad to alternate taking shots throughout the 10 frames. West Valley won the second Baker game 178-134 to secure the match victory.
In JV action yesterday the West Valley squad won, 4-0. The Rams' top performer was Katie Saunders with games of 134-117. In the losing effort, Sunnyside's Veronica Alvarez rolled games of 148-95 and Maleesha Maltos had games of 124-98.
First Game
West Valley varsity
Kristen Hayward 116
Amber Pearson 145
Katherine Hoff 144
Amy Friedt 168
Angela Brown 184
Total 757
Sunnyside varsity
Veronica Tlatelpa 103
Kayla Coder 122
Challea Bussert 88
Jackie Francis 123
Veronica Uribe 139
Total 575
Second Game
West Valley varsity
Amber Pearson 154
Katherine Hoff 166
Amy Friedt 151
Angela Brown 157
Michelle Edmonds 168
Total 796
Sunnyside varsity
Veronica Tlatelpa 112
Kayla Coder 103
Challea Bussert 118
Jackie Francis 143
Veronica Uribe 193
Total 669
Baker Games
West Valley 122
Sunnyside 134
West Valley 178
Sunnyside 134