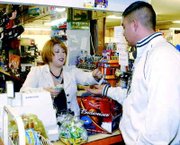 Sunnyside residents who frequent Valley View Market in Sunnyside are probably familiar with Francesca Pedraza.
The cashier at the little grocery store always has a smile on her face and looks like she just stepped away from a salon.
"I can't see myself without being around people," Pedraza said. "I'm a people person."
Pedraza moved to Sunnyside from Houston, Texas 11 years ago with her husband and two daughters.
"I came to visit my sister and when I saw the small town, I decided this was the best place to raise my two little girls," she said.
"I liked the peaceful quality of life here in Sunnyside over Houston," she said. "There is less traffic here, too."
One reason Pedraza looks like she just stepped out of a salon all of the time is because she used to be a beautician. It was something she decided to do when she graduated from high school and worked as one for a few years before moving to Sunnyside.
"I enjoyed it while I was doing it but now that I've done other things, I don't think I could go back," she added.
When she first moved to Sunnyside her beautician license wasn't valid in Washington and she didn't feel like getting re-licensed, so she gave it up.
Then, her sister suggested she become a nurse's aide.
"I said, why not, I'll try it," Pedraza explained.
She did her training at Hillcrest Manor and Rehabilitation Center and then spent the next nine years assisting nurses. She worked at Hillcrest and a nursing home in Toppenish in that time.
"I loved it," she said. "I love taking care of people."
After a while though, Pedraza said she started to burn out some and decided to take a break.
"The problem is you give too much," she explained. "You get to the point where you have nothing left to give."
It was during her self imposed 'timeout' that she was offered a cashier's job at Valley View Market.
"It was something different and I ended up really enjoying it," she said of her job.
She's now been at the market for a year and enjoys interacting with the people.
She says she does everything at the grocery from stocking the shelves, cooking and doing some mopping and cleaning.
She says selling beer and hot food are what keep her the busiest but the market also allows customers to send money to Mexico and there is the scratch tickets people like to buy.
The market is a little bit more than just a convenience store and she said people do a lot more shopping there.
But it's the people she likes. Anywhere from 100 to 200 people a day come into the store and she gets to chat with all of them.
It's not all perfect for Pedraza, though. She dislikes working with money.
"It's the only thing I don't like," she said. "Sometimes my till is off and I have to find out where the money went."
Pedraza said she is happy where she's at and is planning on staying at the market until another wild idea comes to her.
She said she eventually would like to take some time off for her herself.
"I would like to stay at home and be a housewife but I like working too much," she added. "And I can't see myself not working around people."