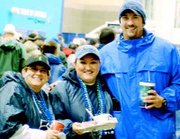 GRANDVIEW - For three generations the Jaramillo family of Grandview has been making the trek over the mountains to attend Seahawk games.
For 30 years since the Seattle team's first season in 1976, the Jaramillo family has faithfully watched the Seahawks through both the bad-such as two-win seasons in the early 1990s-and the good of last year's NFC championship season.
Diane Jaramillo recalls that most of the seasons were bad times for the Seahawks, which until last year's Super Bowl run had not had a playoff win in 20 years.
Jaramillo said each spring, when it's time to again buy season tickets, she, husband Bernie and other members of the family ask whether they should continue the Seahawk legacy.
"We'd always say just one more year, maybe they'll be better next year," laughed Jaramillo's daughter, Renee Van Pelt.
Next year finally came last year for Bernie, Diane and Renee, as well as more recent additions to the Seahawk tradition, such as Renee's daughter, 12-year-old Ashlynn Sennert, and her husband, Paul Van Pelt.
Diane said the whole thing began when Bernie's sister purchased season tickets for the first Seahawk season.
The tradition grew from there as Jaramillo family and friends have purchased up to 16 season tickets in some years.
There have been seasons when the tickets couldn't be given away as the 'Hawks drew sparse crowds. Now, 62,000 of the 67,000 seats in Qwest Field are held by season ticket holders. "We were offered $500 each for tickets to the Packers' Monday night game (Nov. 27)," said Diane.
For all of the amenities and game views at Qwest Field, Diane and Renee said they miss the games at the Kingdome.
"I loved the dome," Diane smiled, "I don't like to get wet."
Renee said the dome was a home away from home.
They both miss the wave. "Everybody did it!" they said.
Now there's not so much of a wave performed by the Seahawk crowd, but winning has brought a wave of new fans to celebrate the team.
Favorite Seahawk moments and players among family members include the contemporary, such as Ashlynn who likes Ken "The Hammer" Hamlin.
Diane and Renee said their favorites are from the Seahawks' early years.
"I liked Steve Largent," Diane said of Seattle's Hall-of-Fame pass catcher. "He just made it look so easy."
Renee's favorite player, running back Curt Warner, was also from Largent's era.
As far as favorite games, Diane and Renee said last year's close-shave victory over the Giants topped their lists.
"It was so loud, no wonder that poor guy missed those field goals," Renee said of the Giants' kicker who missed game-winning field goals in regulation and overtime.
Paul said his favorite Seahawk moment was as a high school band member attending the game in the 1980s when Bo Jackson and the Raiders literally ran over Brian Bosworth and the Seahawks.
"Bo ran all the way into the tunnel (following a touchdown) and it seemed like it took him a long time to come back out," Paul said.
He didn't attend another Seahawk game until he married Renee. This is his second season with the Jaramillos and with the Hawks as a season ticket holder.
Paul laughed and recalled how the minister made references to the Seahawk tradition he was marrying into, telling the couple to commit to each other "through good seasons and bad."
The commitment of season tickets can make for trying times when it comes to schedules and traveling.
Renee said they haven't yet been stranded on Snoqualmie Pass, though there have been some close calls. One year the pass was closed and the family had to detour through Wenatchee.
A typical Seahawk home game will see the family leave at about 6:30 a.m. on Sunday and not return home until 8 p.m. or so that same day.
Renee and Diane work in the Grandview School District and Paul is employed in the Sunnyside School District.
Sometimes it takes creativity to mix football and work.
A Monday night football game, for example, can require inventive scheduling.
"We were sick so we took the day off," Paul remarked with a sly smile when describing how he and some buddies managed a Seahawk Monday nighter last season.
Budgeting is also an issue, as Seahawk season tickets go on sale in March and have to be purchased in no more than two installment payments.
"We just have to save up for it all year," says Renee.
The cost in time and money is no small factor, but it is worth it for the Jaramillo family.
"The Seahawks are very loyal," Diane said of perks long time season ticket holders have, such as access to playoff tickets, retaining their seats and/or buying up even more seats.
Speaking of the playoffs, the NFC championship contest last season was without a doubt the biggest home game in Seahawks' history.
Just ask Paul, he was there with some friends.
"That was one of the greatest games I've been to," he says, noting in particular the jubilation on the field and in the stands when the Seahawks finally lifted the NFC title trophy.
Of course, there's been a Jaramillo family member at pretty much every Seahawk game over the past 30 years.
That's more than 200 NFL games, folks.
Now that's a tradition.
And it all started with a love affair.
"Bernie just loves football," Diane says.
So that means they've had lots of practice getting to the game-and the pre-game tailgating feasts-on time.
"We've got it down to a science," Renee smiled.
Along the way they have met increasing numbers of other Lower Valley people who attend the Seahawk home games.
And, who knows, that could lead to a new Seahawk tradition.
"I guess if we were smart we'd call them and we could all go together," Renee laughed, suggesting that perhaps all could go in and share the cost of renting and parking a trailer at Qwest Field.
All of which means that, in one form or another, it sounds like the Jaramillo Seahawk tradition will roll on for years to come.