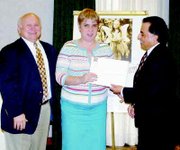 A $37,000 grant presented to Sunnyside Community Hospital last week will make possible a two-day medical clinic in Mabton.
"It's a new venture that's going to start early in 2007. We don't know exactly when, but some time in the first quarter of 2007," said Tom Lathen, media director of the hospital.
According to Lathen, the clinic will be operated 16 hours a week spread over two days a week with staffing provided by physician assistants on a rotating basis.
Location of the clinic is still being decided. Lathen said the Washington State Migrant Council and Mabton School District are both being supportive of the new project and may be able to provide space within their facilities.
"Other grant funding is still being sought to help cover the expenses of the clinic," said Lathen. "The hospital and Lincoln Avenue Family Medicine will join together to provide care at the clinic."
The establishment of medical care in Mabton is being made possible by the grant, which came from Yakima Valley Community Foundation, which awarded $250,000 to 14 Yakima County non-profit organizations. Distribution ranged from $5,000 to $40,000.
Nuestra Casa of Sunnyside also received a grant in the amount of $13,000 to support health care education and its referral services project in Sunnyside.
"A lot of people, mostly women, end up here because they're at the end of their resources to pay for health care," said Sister Mary Rita Rohde, director of Nuestra Casa. "Right now our office hours are 10 to 4 and (because of the grant) they'll extend at least by an hour and a half to two hours. We'll be more available to them to find out what their situation is and then hook them up with services in the Lower Valley."
Rohde said Nuestra Casa did some health education with a $9,000 grant given to it by the foundation last year.
"Now, with this grant, we will be able to continue education about diabetes and nutrition. And that's important because one in four Hispanic adults have diabetes or will have it. They also now estimate that one in three Hispanic children will have it," she added.
The grants were presented to the Sunnyside organizations on Wednesday, Nov. 15. Through its Community Impact Grant Program, the foundation directs its philanthropic dollars to efforts judged to have the greatest potential to improve the qualify of life for Yakima County residents. Targeted areas include health, education, social and human services, community development and the arts.
The grant recipients this year are:
-Allied Arts of Yakima Valley, $19,000 to purchase outdoor movie equipment for the Summer Cinema in the Parks program;
-American Lung Association, $46,000 to support Asthma Camp at Camp Roganunda through camp staff training;
-Central Washington Mountain Rescue, $5,000 to purchase new and replace worn emergency mountain rescue equipment;
-Greater Yakima Chamber of Commerce, $31,000 to support its Citizens for Safe Yakima Valley Communities project directed to reduce crime and the causes of crime in the valley;
-Heritage University, $40,000 to purchase state-of-the-art training equipment for the health sciences program;
-Northwest Communities Education Center, $20,000 in support of the KNDA digital conversion technology transmission project;
-Prime Time, Inc., $12,000 to support the Universally Accessible Treehouse and Interpretive Center;
-SE WA Service Center of the Deaf and Hard of Hearing, $14,000 to purchase technology equipment to provide videophones for access through five libraries in the Lower Valley;
-Wellness House, $14,000 to support a women and cancer project to help lessen or eliminate isolation of women diagnosed with cancer in the Yakima County;
-Yakima Nation Wildlife Resource Management Program, $8,000 to support the Native American Wildlife and Kids Youth Camp program;
-Yakima Folklife Association, $15,000 to purchase new sound system equipment; and
-Yakima Valley Barrios Unidos, $16,000 to support a mentoring program to curtail youth involvement in gang crimes and violence in Toppenish.
"As the foundation completes its second year of operation, we are delighted to be able to support these organizations that contribute so much to improving the quality of life for residents of the Yakima Valley," said John Colgan, foundation president.
"I wish we had the resources to fund all the worthy programs that applied," he added. "That day will come, but we are not there yet."