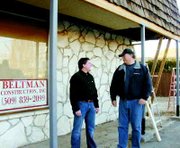 Two people who have a passion for gourmet cooking and presentation of food are opening a bakery and bistro in Sunnyside.
Roger Hazzard said he and his partner, Joreen Mensonides, expect to have remodeling of the former Walco pharmaceutical and feed supply store at 122 North 16th Street finished and open for business by Dec. 18.
"We have entirely gutted the building and done a complete re-alteration," said Hazzard.
He said they have chosen to call their new business Bon Vino's Bisto and Bakery, after first contemplating "Divine Bakery and Cafe", even though that name would have, he said, accurately describe the food they will present to the public.
"We'll be serving breakfast and lunch and we'll do catering too," said Hazzard, who has established a reputation for catering special occasions over the past several years.
A dinner menu may be in Bon Vino's future, but the new business owners prefer to take that step after they have established their breakfast and lunch clientele.
"Joreen will be in charge of the pastries and I'll do the cooking," said Hazzard.
Mensonides, who holds a certificate in professional baking and culinary arts and hospitality from Skagit Valley College, interned in several bakeries in Holland and Canada.
"I grew up with a European pastry background in Outlook," said Mensonides, who is of Dutch descent.
She said she will take that family experience and education with her to the bistro to offer muffins, scones, cinnamon rolls, cookies and lots of cakes made the European way with whipped cream frosting and decorations of chocolate and fruit.
Hazzard's work history, in addition to the catering he's been doing for friends and family in the Lower Valley, includes four years as a flambé cook at Johnny's Restaurant, an upscale dining experience offered by the former Towne Plaza in Yakima.
It was Hazzard's catering that brought him into contact with Joreen.
"I catered a few small parties for people in the community and Joreen's parents were there and told Joreen about me and that's how I became acquainted with her. She called and said she wanted to open a bakery and asked if I wanted to be in partnership with her," said Hazzard.
He said after discussing the idea with his wife, Kenna, he jumped at an opportunity he calls "once in a lifetime". With two children under the age of three, Hazzard said he feels it is an ideal time to open a door to a new lifestyle while his sons aren't involved in activities outside the home.
Hazzard, who has been in charge of purchasing for Darigold's maintenance needs for the past nine years, said he will clock in at Darigold Inc. in Sunnyside for the last time on Dec. 8.
"It will be a big change," he said.
In addition to Hazzard and Mensonides, Bon Vino's Bistro and Bakery will employ two waitresses, a kitchen assistant and Hazzard's niece as the barrista, who will serve the first cup of Starbuck's coffee to be brewed commercially in Sunnyside.
The interior decor will have a Tuscany flavor with greens, browns and oranges predominating and an acid-stained floor of coffee and orange.
"They'll be lots of sconces and a dropped ceiling in black, bistro tables and chairs. We'll have a seating capacity of 99 with a conference room that can seat 40," said Hazzard.
"The exterior is a soft yellow and we'll have a row of grape vines; I think we'll probably do wine grapes. And a container garden," he added.
Although they are still awaiting confirmation of a license to sell beer and wine, Hazzard was busy last week conferring with wineries to plan successful wine pairings with the type of food they will be serving.
"We'll have hot sandwiches, soups, salads and pasta dishes...oh yes, and panini grill, which are grilled sandwiches with all different type pestos, cheeses, meats and sauces available," said Hazzard, almost licking his lips as he described what he and Mesonides will be cooking up for customers.
They plan to be open from 6 a.m. to 4 p.m. every day except Sunday.
"And closing on Sunday is subject to change," said Hazzard, laughing.