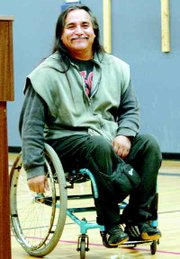 GRANDVIEW - Geronimo Pina Jr. stood tall last night in Grandview, even though he was seated in the wheelchair to which he was relegated 28 years ago when he took a bullet in the back in a gang fight.
Pina was a guest speaker at a gang forum organized by Grandview leaders intent on keeping the kids in that city safe from gangs and out of gangs, whether they want to be out or not.
Pina was invited to speak to the parents, who came to Grandview Middle School last night to learn how they can be part of that effort. He carried a message that only a gang member could deliver.
"I was about 15 years old when I got into a gang," said Pina.
It was a gang he and his brother, who was four years younger, named The Impressions.
Asked if he, as the one who named the gang, was its leader, Pina responded wryly, "So they say, but I didn't feel like a leader."
He said he had no cut and dried reason why he grouped himself with a gang of friends, who made trouble in the community.
"I thought it was cool, something more like getting respect from others. I don't know why we needed respect because if you give respect, you'll get respect," said Pina.
After six years in the gang, Pina ran into trouble he never expected.
"We got in a gang fight. It started at the city park in Grandview and ended at a hop ranch. It was our fault. We never should have followed them out there.
"They started pulling out guns and we didn't have no guns. In just seconds I ended up getting shot in the back. A friend got stabbed in the eyes and there were some other knifings. It was real bad," said Pina.
"I don't blame anyone but myself."
The bullet in his back paralyzed Pina, and, when asked how long his recuperation took, Pina shrugged, gave a rueful grin and asked, "From my depression?"
Depression can be an almost daily companion to a healthy, active guy who, over night, finds himself confined to a wheelchair.
In Pina's case, that chair brought him even more problems.
"The gang ended right then, right with that fight," said Pina, who confessed that wasn't an end to his criminal activity.
Indulging in cocaine led him to sell the drug to support his habit. And he got busted for it, twice.
"I thank the Grandview Police Department for arresting me. If it weren't for them arresting me and locking me up, I'd be in a worse place than I am now," said Pina, who spent three and a half years of a five and a half year sentence in prisons in Shelton, Monroe and Walla Walla.
It was there that his wheelchair made him a victim of some inmates who, he said, "were pretty rude and, because I was in the chair, could push me around and get away with it. It was hard, but if you do the crime, you have to do the time," said Pina.
"I'm not happy about all this. I guess I had to learn the hard way and I did," he added.
He carries two blue tears tattooed below his left eye. In the criminal world a teardrop usually signifies the bearer has killed a person.
"I got those in prison to remind me not to go back in. For me, they mean I killed myself by ending up in the chair and getting locked up," said Pina.
Married twice, Pina is now a single father with a daughter and a son, who lives with him in Grandview. For many months he was a familiar sight as a greeter at Wal-Mart in Sunnyside. A tangle over how much he could earn and still keep his benefits has removed him from that role in which he seemingly thrived and made many shoppers welcome with the big smile he would turn on for them.
Last night at the gang forum in Grandview, Pina wasn't smiling much during his brief talk to the gathered parents. His voice broke several times as he told of his gang experience and the fateful night that changed his life.
"It was emotional for me, but I don't want to see anyone's child in a chair or a box," Pina concluded.