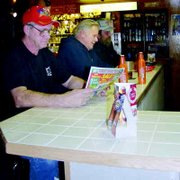 by Corey Russell & Lynda Jo Gross
It's been almost a year since Washington voters ushered Initiative 901 into law.
This initiative made it illegal to smoke in public places, including bars and restaurants, and even private clubs.
Some owners of these establishments predicted doom and forecasted the end of their business. Supporters of the initiative were quick to soothe naysayers, promising the number of new customers frequenting these establishments because of the smoking ban would more than make up for any lost customers.
Now, after nearly a year of the ban being in force (Dec. 8 will be one year), the jury is still out on how bad it's hurt or helped local business.
"People think that after a year everything would settle down and that's not the case," Darren Dodgson, owner of Bern's Tavern in Prosser, said. "It really hurt us, we're still trying to rally from it."
He said it's been hit and miss on any new clientele and the initiative basically knocked the stuffing out of his business.
Rob and Sue Rice, owners of Valley Lanes in Sunnyside and RC's Casino, said they have had to make changes since the ban went into effect.
"The first day was the worst," Sue Rice said of the ban. "It was really scary."
She said some customers said they wouldn't return to the bowling alley. Some have, some haven't.
"They kept saying there would be new customers but that hasn't happened," she added.
Doug Pecheos, owner of the Blue Moon Bar and Grill in Sunnyside, echoed that statement.
"I would have to say we haven't had any new customers because of the smoking ban," he said. "We have the same non-smokers as before."
Bob Tucker, the Grandview VFW Post canteen manager, said he heard the promises of a wealth of new customers.
"We do have a few new customers, but not enough to replace the ones lost," Tucker said. "I'm going to say about a quarter of the business didn't come back. If they do come back, it isn't very often."
On the other side of this, though, is Gabriel Garcia, owner of El Valle in Sunnyside.
"I like it," he said of the smoking ban.
Garcia said the business in his restaurant's sports bar has increased. He said before the ban there were people who wouldn't come into his bar because of the smokers. Now they do. His employees are also happy about working in a non-smoking environment.
Kile Louie, owner of the Golden Pheasant in Sunnyside, said he, like most people, lost customers at first but he says they've all returned.
"The customers like our place," he said. "It took a couple of weeks. They couldn't do anything about it so they came back."
A general theme among the business owners The Daily Sun News spoke with all said they tried hard not to lay anybody off due to the lack of business.
"We haven't had to lay anybody off but we've had to cut back on hours," Sue Rice said.
She said they don't have lane runners anymore to wait on the bowlers. At the casino, they've cut back on hours and have their employees multi-task to save time.
"We took the brunt end of it to save our employees' jobs," Rob Rice said. "When some left we didn't fill their position."
He said payroll is about two-thirds of what he had at this time last year.
He said he hasn't seen a lot of new customers but has noticed his regular customers haven't come in as much.
When they do come in, he said, they just gamble and then leave.
"They don't stay that long," he added.
He's tried to accommodate them. He built a smoke shack outside of RC's for the smokers to smoke in. It's even heated during the winter months. He also tries different promotions to lure his customers back in.
Most places don't have a heated smoke shack for their smokers, though.
"Everybody has adjusted to going outside, but now it's freezing," Tucker said. "Why should a person freeze to death to smoke at a private club that they paid to belong to?"
Dixie Amundson is a non-smoker and owner of Keno's Restaurant and Lounge in Prosser.
"It's nice for me but can be hard on the customers," she said. "It's easier on the building, it smells better in here. The (smoking) customers have been really respective of the law."
Amundson said what's hurt her business more, however, are the DUI patrols.
At the Blue Moon, Pecheos has had to make some adjustments as well. Hours have been cut but no one has been laid off. He added that was the last thing he wanted to do.
Business is returning to the Lower Valley night time establishments, but it's not yet known if this is because smokers have accepted the smoking ban or if the winter season has anything to do with it.
The Rices said business has been getting better lately but again aren't sure the reason why.
From a lifestyle perspective, the Golden Pheasant owner said, "It's been good for people's health."
"This smoking ban hasn't affected us negatively," said Louie.
Other places, it has.
"There were some places having a rough go before the smoking ban and for most of those this was the final nail in the coffin," Pecheos said.
The Blue Moon Bar and Grill owner went on to ask a question on quite a few smokers' minds.
"If smoking is so terrible why does the state collect taxes on it?" Pecheos asked.