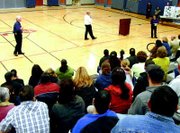 GRANDVIEW - A safety net is being woven by the Grandview School District, police department and the city's parks and recreation department to protect Grandview's children from falling into gang activities.
"Our program is prevention, intervention and suppression," said Kevin Chase, superintendent of the school district.
"And this tonight is prevention," Chase told a large gathering of parents at a gang forum held last night at Grandview Middle School.
The purpose of last night's meeting was to help parents recognize gang-related actions in their own children so they can be nipped in the bud before blossoming into full-fledged gang membership.
"We are working together to help educate parents and families about what we can do to keep our children safe in Grandview and out of gangs," Chase said, as he introduced Police Chief Dave Charvet to the parents.
Charvet was just one of a flock of police officers who were on hand to lend support to a concentrated effort Grandview is making. He was joined by Mike Carpenter of the city's parks and recreation department and Jack Dalton, assistant principal of the middle school and Mike Closner, vice principal at the high school. Many of the school's teachers and administrators were at the informational meeting.
After the introductions, the school gymnasium went dark and a 20-minute video was played, showing parents various gang symbols, such as tagging that is drawn on buildings and hand signals that are flashed between members.
Closner told parents to be alert if their young children begin to show an unusual desire to wear red, blue or even brown.
"Red and blue are Grandview gang colors and sometimes brown to show brown pride," the parents were told.
The parents were informed that mesh belts in red or blue with military style buckles have been adopted by Grandview gangs and are worn hanging below shirt tails.
"And if you see unrecognizable writing on your child's peechee, it may be gang signs," was one warning that went out to parents last night. Even the letter "i" written with an "x" instead of a dot over the letter indicates gang activity, as does crossing out the letters "s" and "n".
Parents were told that age has no limit in gangs, as today's gangs, with hard core adults at their centers, are drawing in the younger children, even at the elementary school age. Often they are enticed into gangs by older siblings.
"Older brothers and sisters are writing these symbols on the arms or peechees of the younger children. The little kids have no idea what they're saying, but they hear and see it from their older brothers and sisters," said Closner.
The watch word at last night's forum was "be alert".
Closner said the schools are encouraging teachers to keep a keen eye out for kids showing signs of being on the fringe of gangs and to refer suspicious activity to principals. "We want to work with those children to keep them away from gangs," said Closner.
Perhaps the strongest visual aid presented at last night's gang forum was a 49-year-old Grandview man, Geronimo Pina Jr., who was paralyzed in a gang fight when he was 21 years old.
"I thought it was really cool being in a gang," said Pina, speaking from the wheelchair to which he is now tied.
"When you're in a gang, it's real easy to do the criminal stuff, and, if you don't comply with the gang activities, you're gonna be beat up or called names and you don't want that when you're in a gang," said Pina.
"When you get in a gang situation and get in a fight, you don't realize until it's too late that something serious is going to happen until it does happen," said Pina.
"I got in a gang fight and ended up in this chair. So, hopefully, I can bring somebody some knowledge about gangs because I really don't want to see any of your children in a chair or in a box. If I can talk to one person and save a life, I'm willing to do that. I'm willing to talk one-on-one, if they want that," said Pina, inviting people to talk with him after the forum, which several people did. (See related story on this page.)
Police officer David Palacios addressed the parents present, explaining to them their parental rights involving discipline versus punishment.
Palacios told the parents that a slap on the face after a child says "eff you" won't get a parent into trouble, even if that slap causes a nose bleed.
"The word discipline is Latin, and means 'to teach'," said Palacios. And he said discipline shouldn't be confused with punishment, which is administered in anger or with malicious intent and results in medical treatment or lasting marks or scars.
"If you think like I do, your child is the greatest gift you have, and none of us want our child to grow up to be the next big thug in Grandview," said Palacios.
He claimed that the 99 percent of the problems with young people come from a lapse in parenting.
"It's your right, it's your duty as a parent to know who your child hangs out with and where and what they're doing. The best anti-gang medicine is whatever happens at home. You have the right to set the parameters of how your children are going to live their lives while they're under your care," he said.
Parents were left with a last thought by Carpenter, who gave everyone in attendance four pages on which were listed activities available for young people in Grandview. The list ranged from contact numbers for Scouting to 4-H to the explorer program within the Grandview police department.
Carpenter pointed with pride to a new program that the parks and recreation department has started on Fridays when students are released early. From 11:45 a.m. to 2 p.m., Frenzied Fridays at Grandview Middle School offer a wide variety of fun and activity for students.
"We give them an alternative to being on the streets with nothing to do," said Carpenter. Sixty students showed up at the last Frenzied Friday. The next takes place Dec. 1, he said.
Last night's program will be followed by another informational forum on Monday, Jan. 8, when Dora Trevino of Quincy will visit classrooms at assemblies and then speak to parents and their children at an evening forum entitled Stop the Violence.