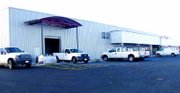 After about 40 years of doing business in Sunnyside, the local motorcycle shop is moving to Prosser.
According to Sales Manager Pat Jaquish, the plan right now is to get moved during the first two days of December.
Jaquish said that owner Dan Denchel wanted to expand and Prosser was the best place to build.
There are many reasons why it's a good plan, said Jaquish. "It will be very visible from the freeway, it's a brand new state of the art building, and we'll be closer to 250,000 people," he said, referring to residents of the Tri-Cities. He said there will also be more parking, as well as more display space.
The move will allow the business to increase product, including more parts and accessories, as well as clothing. And, adds Jaquish, "All bikes can be displayed at the same time."
Jaquish said the only thing that might pose as a concern is the fact that people might not know where the shop is moving to because "people are so used to coming to Sunnyside."
The current building is 12,000 square feet in size. The new building in Prosser is 26,000 square feet.
Jaquish is eager for the business to open. "It's probably one of the nicest looking motorcycle shops you're ever going to see."
The name of the business, which will be located on Merlot Drive, will change from Sunnyside Motorcycle Shop to Desert Valley Powersports.