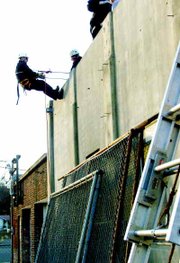 If you have a heart attack while roofing your house or are trapped by fire on the top floor of a high-rise building, you may want to have it happen in Sunnyside. Firefighters here spent the past two days learning how to extricate victims in those situations and carry them to safety.
The high angle rope rescue technique was taught to firefighters from Sunnyside and Yakima County Fire District #5 by Jeff Beeler and Chris Manroe of JB Safety and Rescue Services of San Diego, Calif., who provided the training under contract with the fire department.
The training was in-depth, with a good portion of Monday dedicated to just learning how to handle the zee rigs and anchor systems that secured the rescuers before they rappelled off a 16-foot roof at Grant and Sixth streets in downtown Sunnyside.
The trainees wore safety harnesses that were also secured to the rappelling line to prevent injury on the off chance a firefighter took a wrong step as he leaned out into space and walked his way down the 16-foot wall.
Tuesday the training heated up when Beeler and Manroe took the group, all paid firefighters, out to a quarry and then to Darigold, where they simulated a rescue (using a real person) from an overhead and difficult to reach platform.
"It's been a long time since we've had this kind of training," said Sunnyside Fire Chief Aaron Markham. Assistant Chief Lloyd Hazzard said he can't remember the last time the high angle rope rescue training was offered. Unfortunately, an arm injury prevented Hazzard from taking his turn on the rope.
"This is going to be ongoing training, though," Hazzard noted. "In March or April we'll have a trench rescue operation where we rescue someone out of a hole. We'll be working with the Public Works Department. They have a backhoe and they'll take part in the class, but the firefighters will do the work."
More like this story