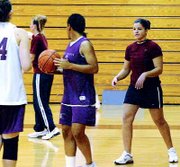 GRANDVIEW - Last year the Grandview High School girls basketball program suffered through one of its worst seasons ever. The Lady 'Hounds finished 1-19.
A terrible record? Yes. But what that record doesn't show is how many games the Greyhounds were actually in last year, which was a lot.
Gone from the CWAC schedule are Naches Valley, Kiona-Benton and Connell. They are replaced with teams like Ellensburg, Quincy, Selah, Wapato and Prosser. There are 10 teams in the new CWAC and a new coach in Grandview. Her name is Tarah Troutman.
"I expect to win, I demand perfection and I don't expect laziness," Troutman said, explaining her coaching strategy.
She has already penciled in plans for her girls to be playing at the state tournament in March.
Troutman grew up in the Tri-Cities and played for the Kamiakin Braves' basketball team. She played some ball for Columbia Basin College before accepting a full-ride scholarship to play at Northwest University in Kirkland.
"Playing in college we could create more," she said, explaining college ball is basically creating plays out of sets. "In high school, you really need to tell the kids where to go. There is more freedom in college."
The Lady 'Hounds shouldn't be expecting too much freedom this year as Troutman likes things done her way.
She eased her girls into the transition during the summer AAU league.
"This summer we established a winning attitude," Troutman explained. "Instilling discipline and fundamentals."
The change was evident as the Grandview team played 30 games last summer, losing only six or seven, according to Troutman.
"They're ready to win," she said. "I can't say enough about them."
She said the team is taking to the defense she is teaching them.
"If they have questions they ask them but they don't question the system. They just do it."
This trust the players are showing their new coach was crafted last summer with AAU play.
"It created a relationship with me and the girls," she said. "They got to know me over the summer. They trust me."
This shows in how they practice. Troutman said she ran the tar out of her players the first practice last week. Harder than they've every worked, she thinks. She said the varsity players never complained.
"They're setting the bar for the girls who come after them," she said.
She starts her team out in practice each day with fast break drills. She said she learned at a coaches clinic she attended this fall the University of Washington team starts practice this way.
Grandview's girls then do Stanford stretching, a form of stretching done at Stanford University. This keeps the girls flexible, she added.
Then it's fundamental drills and more fundamental drills.
"We have a couple of good shooters," she said. "It will be interesting to see how we perform in games this season. We want to be consistent."
She said Grandview will rely on their big posts this year but said her guards are very dangerous, too, with three very good ball handlers.
She singled out Cristina Meza as one of her best shooters.
"She has one of the quickest three-point shots I have seen at the high school level," Troutman claimed. "I think we'll rip apart a lot of defenses with our size. Our posts are very quick."
She said the defense is coming along well. Her players have already learned one of Troutman's defenses and she plans to teach a couple of more before the season starts.
Last year's 1-19 season never comes up. Troutman said she's mentioned it once and won't mention it again.
"This is a completely different team," she said. "It's time to move on and establish new traditions."
One new tradition this year will be adding Ellensburg into their schedule. Grandview played Ellensburg this summer and lost by eight points. Troutman points out her team hadn't really practiced at that point and her team now is totally different.
Grandview's third league game this season will be against East Valley. The Red Devils crushed the Lady 'Hounds last year by scores of 77-25 and 80-34.
"East Valley is very athletic, as is Othello," Troutman admitted. "I'm really into scouting and we'll have film on all the teams."
Whatever happens, she is ready for the season to start. She notes her team is very young but has great senior leadership.
Troutman said her coaching staff is very qualified. She hired her own coaches, JV coach Tracy King, freshman coach Paul Van Pelt and volunteer varsity assistant Johnny Rodriguez.
The Lady 'Hounds will get their feet wet Monday, Nov. 27, at the Sunnyside Jamboree, starting at 6 p.m.
Their first regular game of the season will be Saturday, Dec. 2, when they host Granger at 7:30 p.m.
"I'm committed to them," Troutman said. "I will do everything I can to prepare them for the games and then let them play."