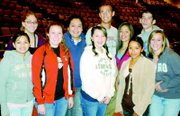 "Where's my D.C. 10?" Sunnyside High School teacher Dave Martinez asked Tuesday morning.
Martinez wasn't inquiring about a jumbo jet, but gathering together the 10 students in his leadership class who are headed for a national anti-drug summit in Washington D.C. Feb. 11-17, 2007.
The group needs help in making the trip a reality, which is why Martinez called his "D.C. 10" together yesterday. The students need to have $3,000 raised by next Tuesday, Nov. 28, to secure airfare and altogether will need $10,000 for the one week trip.
The summit will be held by Community Anti-Drug Coalitions of America (CADCA) to help students from around the country create plans for their hometowns in battling drugs and violence.
Martinez said Sunnyside students have gone to CADCA summits in the past, but haven't had this number of students participate before.
Martinez smiled as he recalled how such a large number of students agreed to the summit, after the idea was presented to them by Lisa Fairbairn of Sunnyside's Promise and Police Chief Ed Radder.
"This is a group of students that's not just talking about solving problems, but wants to do it," Martinez said of the eight juniors and two seniors who comprise the "D.C. 10".
That sentiment was echoed by one of the 10, junior Jonas Linde.
"This is a way to get involved and make a difference not just for our school but for the community," Linde said of applying the principles he and the other SHS students will learn at CADCA.
"D.C. 10" senior Dane Schmick calls the summit a catalyst for "getting things done," while junior Alejandra Bobadilla said the summit will only help kick start the Leadership Class's efforts next year.
Fairbairn said the students will get a chance to apply the principles learned at D.C. as soon as March 2007, which will feature an alcohol awareness focus in the Sunnyside community.
The February summit will also provide an opportunity for the Sunnyside students to meet Senators Patti Murray and Maria Cantwell, as well as U.S. Rep. Doc Hastings.
In particular, Fairbairn said the summit with the state's congressional delegation will be a chance to encourage continued funding of community programs to battle drug abuse.
While Sunnyside's Promise is committed to finding funds to help the students on their way, Fairbairn and Martinez said it will take a community effort to help the "D.C. 10" take flight.
Fundraising ideas currently proposed include a freeze out at the high school during the two-day basketball jamboree next week, as well as a silent auction.
Martinez emphasized the students are not asking for hand-outs, but want to work for the money by helping out with a projects in the community, whether it be yard work or other service projects.
For more information or to put the "D.C. 10" to work call Martinez at 837-6776.