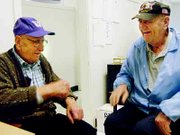 There's a guy in Sunnyside who can look back over 61 years and find something for which to be thankful this Thanksgiving Day.
Raquel (Bill) De La Paz, 83, has a Purple Heart and three bronze stars tucked away after serving in at least three campaigns in Italy in World War II. He also has a hip still painful from the shrapnel that was dug out of it all those years ago. But he's alive and well and able to talk about it.
Even though he was wounded and spent about a month in a hospital in a foreign country, only to be released to return to battle, De La Paz doesn't consider himself any different from all the other soldiers who have served their country in time of war.
"We had to do it," he says simply.
De La Paz was a young man of 20 living in Falfurrias, Texas when he was drafted into the Army on June 11, 1943. He received basic training at San Antonio, and was sent to Oregon for further training before shipping out for Italy.
His memories of the troop ship and the length of time it took to reach a country steeped in war are sketchy. He recalls more clearly the times he and other soldiers looked down from a plane onto terrain below that they couldn't land on because of enemy presence.
De La Paz remembers the rugged hills of Italy he climbed up, down and over, lugging mortar shells. "And all the dead soldiers...we would pick them up and put them in trucks," said De La Paz.
A heavy mortar crewman and a combat infantryman with Company D, 363rd Infantry, Private First Class De La Paz, who never went beyond the fifth grade in school, quickly added Italian to the English and Spanish he already spoke, and was an unofficial interpreter for his company commander. When teasingly asked if he learned Italian by romancing the Italian girls, he offers a quick "No, no", and then grinned and added, "Well, whatever."
He saw action in at least three campaigns, in the Rome-Arno, North Apennines and Po Valley. He earned two overseas service bars and, along with thousands of other World War II G.I.s, a Good Conduct Medal.
"I think it was in Rome, fighting in the hills," De La Paz said, when asked where he was when he was wounded.
He shifts position, carefully lifting his left hip from the chair, as he describes the wound that required 18 stitches to close up. His good friend, Elmer Schultz who calls himself De La Paz's adopted son, teases him that he was shot in the butt while running away.
But it is only a joke between the two who are "close friends, who friendly fight," according to De La Paz, who zinged a few witty remarks of his own at Schultz.
It is Schultz who brought the 83-year-old veteran into the Daily Sun News to tell his story. "I thought it was interesting," said Schultz, a Korean veteran himself who often serves as chauffeur and errand boy for his friend, who no longer drives.
De La Paz fluffs off his war experiences more easily than he does memories of his family life as a youngster in Texas.
"I was born in a garbage can probably. I have no mother, no father, no brothers, no sisters. I was alone in the world," he claimed, but admitted there was a woman in his life that he called "Mother".
"She treated me wrong. Would feed me only once a day. Told me to get out, go outside when I told her I was still hungry. The way she treated me, I don't believe she was my mother," said De La Paz, who said he never learned anything that convinced him otherwise. "And I never had a father," he added.
He was quick to start his own family when he was discharged from the Army in October 1945.
"The first day I got back to Texas, I walked down the street and saw this girl. I asked her if she wanted to have a cup of coffee and she said yes," said De La Paz.
Before he emptied his cup, he had asked her to marry him.
"And she said yes," said De La Paz.
He and his wife, Elvira, have been married 61 years. They've lived in Sunnyside since the 1950s and have four daughters and two sons. Before he retired at age 62, De La Paz supported his family through farm work, following the crops to pick cotton in Texas and fruit and asparagus in the Valley.
Memories of the woman De La Paz called mother hang heavy over their household even after all these years.
"We lived with her after we got married, about three years, and she wasn't good to me or my wife. She was mean to us," said De La Paz. He said he would like to erase the memories of those bad years, but the hurt has sunk deeply into his wife, who can't seem to forget, he said.
"I tell her we should put it behind us. I tell her people don't see us, don't see everything we do, but God sees us," said De La Paz. "I have faith."
De La Paz does carry an unusual name, given to him by the woman whose roof covered his head.
"Raquel. I don't know why my mother named me that. They say it's a girl's name," said De La Paz. "Most of my friends call me Bill."