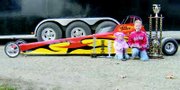 KENT - Eight-year-old Layne Linder ended his rookie season in the NHRA Northwest Junior Drag Racing Association with a win at Pacific Raceways in Kent.
The annual Halloween race held Oct. 21 was the third time Linder has won this year. The Sunnyside youngster also finished in fifth place in the points standings for his divisional races at Renegade Raceways in Yakima.
Linder went through four rounds in the Junior Thunder Division at Kent, for kids 12 and under. With his father at a drag race in Las Vegas, Linder and his mother, Wendi Linder, would call the elder Linder between rounds to get advice.
Linder dialed in 13 flat for his index time in the first round.
"Layne had a better reaction time than his opponent and came closer to his index," Wendi Linder said of Layne's first round race.
In the second round, Linder's opponent broke out, which meant he ran the course too fast and beat the time he dialed in.
Linder used a good start to beat his opponent in the third round.
"He beat him (Layne's opponent) on the tree and then ran closer to his index," Wendi Linder said.
In the finals, Linder's opponent red lit at the start to give the rookie drag racer his third victory of the season.
For his efforts, Linder was awarded a crystal. It's about the size of a brick and sits on a base that has laser lights built in to illuminate the crystal.
Organizers of the Halloween race had a "King of the Hill" event where they pitted the winner of the Junior Thunder class against the winner of the Junior Lightning class, for 13- to 17-year-old drag racers.
Wendi Linder said before the race Layne's 16-year-old opponent came up to him and said it didn't matter who won because they both got crystals. He told Linder he had been waiting seven years to win one.
With that, Linder dialed in a 13.08 and used his lightning quick reaction time at the starting line to get a jump on the teen, enabling him to win and be named King of the Hill.
"Layne knows exactly what to do," Wendi Linder said. "He's been around racing his entire life. Layne has been wanting to race since he was two-years-old and his first year of racing was a great accomplishment. We are all very proud of him."