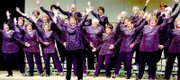 The Rolling Hills Chorus will roll right into Sunnyside Friday, Dec. 1, for a stellar performance at 7 p.m. at the Sunnyside High School auditorium.
This holiday harmony of Sweet Adelines International will feature as guest stars the Columbia River Chordsmen and the Franklin Academy Bell Choir. Three chorus quartets will also perform.
Tickets are available at the Sunnyside Daily Sun News and at the door of the auditorium on performance night. Ticket prices are $10 for adults, $8 for seniors and students, with children 8 and under free if accompanied by an adult.
The main attraction, the Rolling Hills Chorus, features two dozen or more exuberant and lively singers from the Mid-Columbia Region, who excel in barbershop harmony.
One of the performers, Mary Jane Stewart, hails from Grandview and has been singing with the chorus for 20 years.
The chorus members have been meeting weekly at the senior center in Pasco to immerse themselves in uplifting and energizing sounds of barbershop singing. Busy, happy women, they share a passion for singing and service and a devotion to the world's largest singing organization for women, Sweet Adelines International.
The international organization of 30,000 women began 61 years ago and is based in Tulsa, Okla. They sing in four-part a cappella barbershop harmony in more than 600 choruses and 1,200 registered quartets in 14 countries.
In 1978 the Rolling Hills Chorus began preparing for its debut and was officially founded in Prosser in 1980 by 23 women. Three of them, Jo Yetter, Eileen Duncan and Pat Underwood, are still singing in the chorus.
The group's size has fluctuated over the past 26 years, with 24 to 30 members performing at this time.
They provide a two-hour extravaganza of family-friendly entertainment.
Each year the chorus participates in regional competition, and is a seven-time Division A champion in Region 13 of Sweet Adelines International.
Lucy Heinkel, a young, veteran barbershop singer, is music director for the group. She is a 1994 Prosser High School graduate, who grew up singing barbershop and then went on to earn a music degree.
Members of Rolling Hills come from all walks of life and the chorus welcomes any woman who loves to sing and would like to give barbershop harmony a try. Modest monthly dues are paid to defray operating expenses.
Rolling Hills averages six to 10 performances a year.