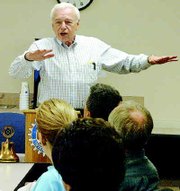 Former Washington State Congressman Sid Morrison was the featured speaker at Wednesday's Sunnyside Daybreak Rotary Club meeting.
The chairman of the Yakima Basin Storage Alliance gave Rotarians an update on Black Rock Reservoir.
He told the club it has been three years since a feasibility study started and the final results should be ready by December 2008.
He shared some bad news with the Rotarians. Apparently, not since the days when Jimmy Carter was president has a project like the Black Rock Reservoir passed the test.
"To start a project like this you need to build a strong base," Morrison said. "We have 40,000 names who think this project is a good idea. You also have to have the broadest range of benefits."
These benefits include those of farmers, recreational benefits and profitablility. He said right now people are trying to figure out the value of municipal and industrial needs.
Morrison told the Rotarians the Yakima Valley needs three million acre feet of water to meet its needs. The five reservoirs in the Cascade Mountains only provide one million acre feet.
"They must fill up three times a year," he said.
Each year Washington state has a water shortage, about one in every four years, it costs Washington taxpayers $1 billion. It is projected Black Rock Reservoir will hold between 1.5 and 1.7 million acre feet of water.
Also, the reservoir will be fed from the Columbia River, which is fed from the Rockies. Morrison said the Rockies has a much high water table then the Cascades.
By drawing water from the Columbia River to irrigate the Sunnyside and Roza districts, it could save 800,000 acre feet of water now taken from the Yakima River. This would re-water the Yakima and increase its fish production.
Morrison doesn't have a firm time table on when construction could start on the reservoir, but he thinks it could be as early as 2015. He said it could take up to eight years to complete the project but new construction techniques being used in Alaska could cut that time in half.