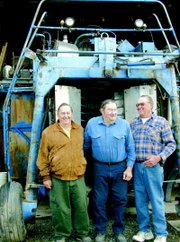 A triumvirate of Kilian brothers-Herman Jr., Winfield and Ervin-has been chosen as grand marshals for this year's Sunnyside Lighted Farm Implement Parade on Dec. 2.
"We hope to get everybody up on the grapepicker and lead the parade. The grape picker will be the grand marshals' vehicle," said Ervin, 61, the youngest of the brothers who have been selected for the honor.
The grape picker that will be blazing with lights is the third purchased by the Kilian family, which was the first to use a grape picker in the Yakima Valley.
The Kilians bought the first of three in 1968 for $24,000, and tried it at the request of Welch, a company that wanted to see how effective the machine could harvest grapes that, until then, had been picked by hand.
"Half of our labor force had been neighbor ladies," said Ervin. "Dad didn't like the idea of putting the neighbor ladies out of work."
"He did admit later it was a smart move," said Winfield. "When it worked so well in Mabton, he said "Ja, dat's my boys!"
Their father and mother, transplanted from Germany to a farm at White Bluff along the Columbia River in 1927, were uprooted again in 1943 by the U.S. government, which told them their farm, along with others, had to make room for a special government project.
"Nobody knew what nuclear stuff was then," said Winfield.
Herman said his dad and mother received enough money for their farm in the Hanford area to provide a down payment on a 30-acre established farm in Sunnyside.
The brothers all got an early start in the fields.
Ervin recalled he often had "stomach aches" that prevented him from going to school so he could stay home and drive the tractor...at age 6.
Winfield said he was older, probably 10, when he amazed German prisoners of war, who were sent to the valley to work on farms in 1945, with his ability to wheel the tractor around like a pro.
Herman, too, remembers working in the fields "as soon as we could walk".
Actually, their mother was the farmer, they said, while their father worked for the Milwaukie Railroad. "She grew everything," said Herman, "and she taught me all about the things she grew."
Even with their long history in the Valley-it spans more than 50 years-the brothers were caught unaware by their selection as grand marshals of the holiday parade.
"I was kind of surprised when Jim (Warren) called me up and told me," said Winfield, 70.
"He just told me 'be there'," said the 75-year-old Herman, who indicated that was exactly what he intends to do.
"I actually thought I was a little bit too young for the honor," said Ervin. "I feel the grand marshal should be someone who farmed all his life and is retired, but the parade committee didn't like that. But I appreciate the fact that we, as a family, are appreciated for what we have accomplished."
Herman Jr. and Winfield are retired, or mostly so, with their sons taking over the active duties. Ervin continues to farm 90 acres and another 70 in partnership with a son.